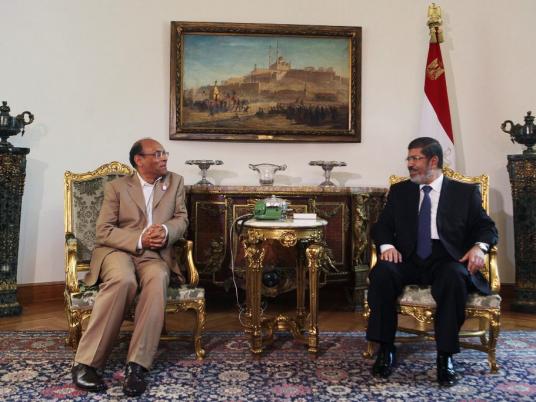 President Mohamed Morsy and his Tunisian counterpart Moncef al-Marzouki met in Cairo on Friday to discuss relations between the two countries, both of which experienced popular uprisings against authoritarian rule in 2011.
Morsy said in a joint press conference with Marzouki that the major goals of the people in both countries are democracy, civic participation and the circulation of power. He added that both countries aim to achieve stability and encourage development.
Egypt and Tunisia both support the Syrian people in their struggle for freedom, Morsy said, adding that the two leaders are "against foreign intervention in Syria."
"The Syrian people's right to self determination is not negotiable," Marzouki added.
Morsy also said that both countries support Palestinian reconciliation and the Palestinians' right to self-determination and an independent state.
Libya plays a role in strengthening relations between Egypt and Tunisia, Morsy said, adding, "Libya is in the heart."
The two presidents emphasized unity, with Marzouki saying, "The era we turn our backs on one another is over."
"The boundaries that separate us will fall gradually; the boundaries between our hearts and minds will fall permanently." Marzouki proclaimed.
Morsy said he is looking forward to visiting Tunisia soon.
Marzouki arrived Friday morning for a two-day visit to Egypt. He is expected to visit Tahrir Square on Saturday morning.
Edited translation from Al-Masry Al-Youm