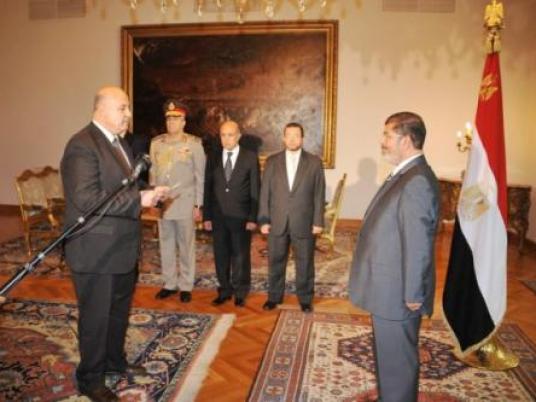 President Mohamed Morsy issued a decree on Thursday specifying the powers of Vice President Mahmoud Mekky, who was appointed on 12 August.
The powers assigned to the vice president include adopting necessary measures when the president is temporarily absent, preparing legislation that ensures the independence of the judiciary and overseeing dialogue among political forces.
Mekky has been granted the authority to adopt necessary measures when the president is unable to do so. These powers do not include, however, proposing constitutional amendments, dissolving either of the two houses of Parliament or removing the Cabinet.
The vice president is also entitled to make decisions and measures delegated to him by the president when the latter is abroad, as well as reviewing and pronouncing on bills and decisions proposed by the relevant bodies.
"The president tasked his deputy to lead the judicial reform project in a way that preserves judicial independence and separation of powers," the decree said.
Mekky was a prominent figure in the judicial independence movement launched in 2005 to advocate for the independence of judges from the Ministry of Justice.
The vice president has also been tasked with assisting the president in following up on the work of presidential assistants and advisors. He now also has the right to ask local and regulatory bodies for data and information and to pronounce on anything submitted to him by those bodies.
Mekky plans to convene with editors-in-chief of major newspapers and magazines next week.
Edited translation from Al-Masry Al-Youm