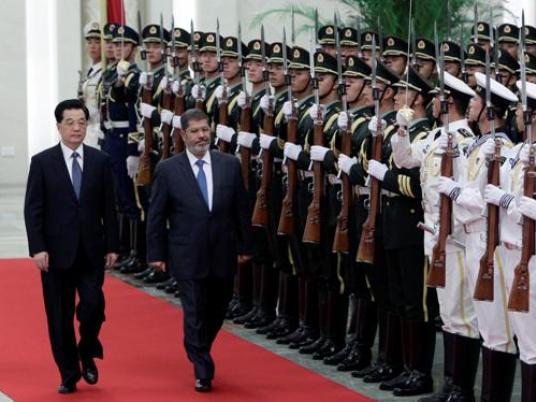 President Mohamed Morsy met with his Chinese counterpart Hu Jintao in Beijing Tuesday, seeking to win badly needed investment and expand diplomatic ties in his first state visit outside the Arab world.
Morsy arrived in China on Tuesday afternoon.
The state owned news agency Xinhua reported that Jintao congratulated Morsy on his election. The news agency added that Jintao said Morsy's choice of China as one of his first visits demonstrated the importance Morsy assigned to Egyptian-Chinese relations. Morsy said he was happy to visit China, referring to both countries as "cradles of civilization," and describing this history as the foundation for their relations.
Egypt has struggled to restart its economy and secure foreign investment since the revolution last year. It receives US$1.3 billion in annual aid from the United States a year, although most of that goes to the military.
Cairo and Beijing will sign agreements for seven major projects, including a power station, a desalination plant, industrial bakeries and Internet development, according to Egypt's assistant planning minister Nabil Abdel Hamid.
Egypt will also propose the development of a high-speed train line between Cairo and Alexandria, Hamid told state daily Al-Ahram.
Egypt expert Peter Mandaville said Morsy's visit marked a "broader effort by Egypt to signal that it's going to diversify its portfolio of relationships."
"In the short term I think it's absolutely the case that Egypt, given its own economic situation, is pretty desperate to attract some lucrative Chinese investment," said Mandaville, a professor at George Mason University in the United States.
Unlike Chinese economic support, US aid to Egypt comes with conditions — a sore point for Egyptians, Mandaville noted.
After his three-day trip Morsy will attend the Non-Aligned Movement Summit in Iran, becoming Egypt's first leader in 30 years to visit the nation.
He will go to Washington next month after attending the UN General Assembly in New York, and Chinese media have highlighted his decision to make Beijing his first official trip outside the Arab world.
"The Egyptian president is indicating that these are changing times for his country's foreign policy," said a recent article posted on the website of the People's Daily, citing analysts. The paper is seen as a mouthpiece for the ruling Communist party.
Morsy's spokesman Yasser Ali said the visit was "meant to attract Chinese investment in Egypt."
Trade between the two countries reached $8.8 billion last year, up 40 percent from 2008, according to the Chinese Ministry of Commerce.
During Morsy's stay in Beijing from 28-30 August, he will meet China's Premier Wen Jiabao, Vice President Xi Jinping and top legislator Wu Bangguo on Wednesday.