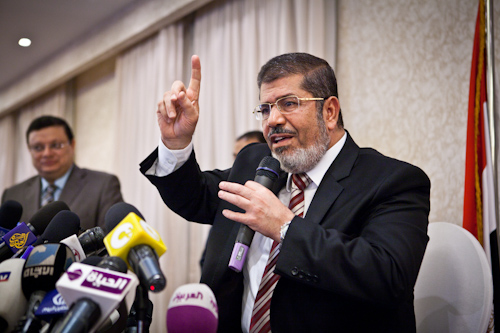 Saudi Ambassador to Cairo Ahmed al-Qattan said Egyptian President Mohamed Morsy will visit Saudi Arabia next Wednesday in his first visit to a foreign country as president.
He will meet with the Saudi King Abdallah bin Abdel Aziz, Qattan said.
"President Morsy promised before when I met with him that Saudi Arabia will be the first country he visits if he becomes president of Egypt and this issue delights us a lot because it shows how proud Egypt's president is of Saudi Arabia," Al-Ahram Portal quoted Qattan as saying after his meeting with Morsy in the presidential palace.
Qattan said Morsy will perform Umra during his visit.
Egypt-Saudi Arabia relations have been strained since the 25 January revolution and the ouster of former President Hosni Mubarak.
They were further tested after the arrest of Egyptian lawyer and rights activist Ahmed al-Gizawy in Saudi Arabia on charges of drugs smuggling in April. Egyptian activists protested outside the Saudi Embassy in Egypt, prompting Riyadh to withdraw its ambassador. The ambassador was returned after an Egyptian parliamentary delegation, led by Muslim Brotherhood leaders, visited the kingdom, but Gizawy remains in detention.
Qattan pointed out that Saudi Arabia already granted Egypt US$1 billion as a deposit in the Central Bank of Egypt, and another US$500 million.