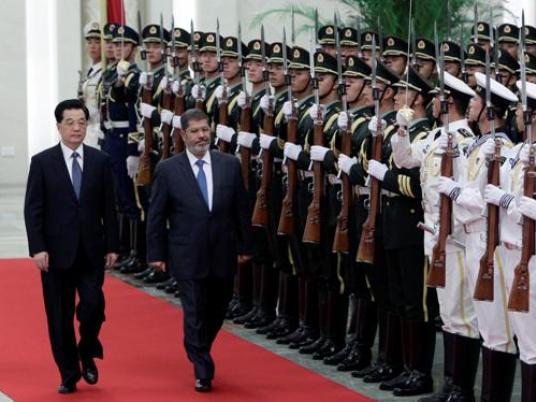 Presidential spokesman Yasser Ali has said several investment agreements were signed between Egyptian and Chinese businessmen during President Morsy's visit to China, totaling some US$4.9 billion.
Ali described the visit on his Facebook page as a boom in investment between the two countries, as the current volume of Chinese investments in Egypt does not exceed $500 million.
He added that the figure could increase, as the president has not concluded his talks yet.
But according to the Chinese Ministry of Commerce, trade between the two countries reached $8.8 billion last year, up 40 percent from 2008.
On Tuesday, Morsy started his three-day visit to China in order to attract Chinese investment in Egypt.
This week, Nabil Abdel Hamid, Egypt's assistant planning minister, said that Cairo and Beijing will sign agreements for seven major projects, including a power station, a desalination plant, industrial bakeries and Internet development. Hamid added that Egypt will also propose the development of a high-speed train line between Cairo and Alexandria.