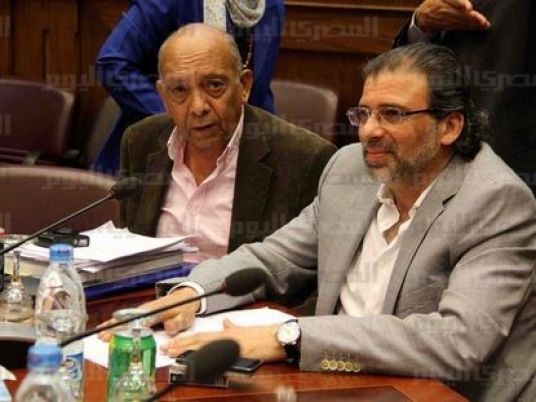 MP and filmmaker Khaled Youssef has said "drugs found [in his luggage] were not Tramadol, but Xanax, which treats headaches. It is for my wife Mayar al-Sharbatly."
Security services arrested MP and filmmaker Khaled Youssef at Cairo International Airport for possessing 10 packets, containing 100 pills that were hidden in his luggage ahead of traveling to Paris, sources from the airport said.
Legal measures are being taken against him.
Speaking to Al-Masry Al-Youm, the sources said police officers supervising security at the departure hall were skeptic about Youssef's luggage while passengers on EgyptAir flight No.799 were being checked. The x-ray showed there were "dim objects" inside. Notified, higher authorities ordered that the luggage be checked and 100 Xanax tablets were found inside.
Major General Fahmy Megahed, deputy interior minister for Cairo Airport security, ordered for legal measures to be taken against Youssef.
However, Youssef told Al-Masry Al-Youm: "medical prescriptions that have the names of the medicines will be handed over to the airport authorities."
In Novemer 2015, Youssef won a House of Representatives seat as an individual candidate for his hometown, Kafr Shokr, in Qalyubiya, garnering nearly 30,000 votes. He said in an interview with Al-Masry Al-Youm that his winning represented the victory of the January 25 and the June 30 revolutions against the Mubarak regime.
In December of the same year, Sada al-Balad Presenter Ahmed Moussa, widely believed to have strong connections with security services, revealed intimate photos allegedly depicting Youssef with an unidentified woman. He suggested that Youssef's morality should be questioned since he is now a parliamentarian, asking him to announce whether the photos were really his.
Edited translation from Al-Masry Al-Youm