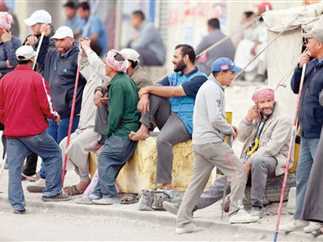 MP Mohamed Saad al-Samoudy announced that he submitted a briefing request on Thursday.
It was submitted to the House of Representatives Speaker regarding the Kuwaiti authorities' decision to stop issuing work permits for Egyptian workers.
In his briefing request addressed to the Minister of Manpower, Samoudy said: "The authorities in Kuwait have stopped issuing work permits for workers coming from Egypt until further notice, one day after suspending the e- ink memorandum between the two countries, by a decision of the Kuwaiti Minister of Interior."
The reply from the Kuwaiti authorities was that the decision was taken for several reasons. 
The most important of which is a step to put in place a new mechanism to control recruitment from Egypt, seeking to implement the laws and regulations of the labor market in Kuwait decisively.
There was also a violation by the Egyptian embassy of the Kuwaiti laws regulating the labor market.
Samoudy explained that the decision has negative repercussions, and comes at an inappropriate time.
He iterated and said.
"We understand the decisions of the Kuwaiti authorities, which have absolute freedom to take what they deem appropriate for their internal affairs," Samoudy said, adding: "But on the other hand, this decision will negatively affect the Egyptian labor, as Kuwait is one of the largest countries with Egyptian labor exceeding half a million Egyptians workers in various professions and fields.
Samoudy criticized the silence of the Ministry of Manpower in Egypt regarding the decision, and for not issuing any official comment or statement on the matter.
Samoudy has subsequently called on the Ministry of Manpower to conclude new agreements regulating Egyptian labor with its Kuwaiti counterpart that preserve the rights of both sides in light of fraternal and historical relations, and to reach satisfactory solutions, as did a number of countries that have expatriate workers in Kuwait.