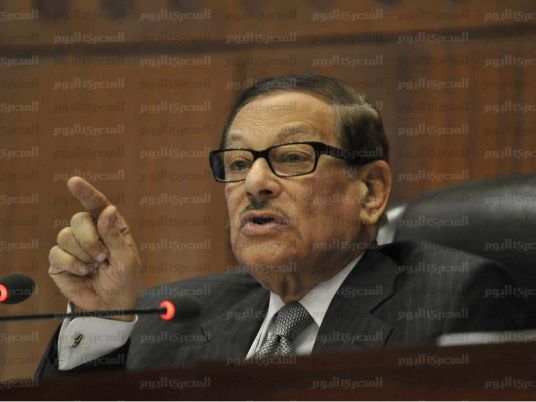 An Egyptian court sentenced Mubarak-era parliament speaker Safwat al-Sherif and his son to five years in prison for illicit profiteering and abusing power to make fortunes on Saturday.
The Cairo Criminal Court also sentenced Sherif's other son to ten years in prison in absentia and fined the defendants approximately EGP209 million (around $23.5 million).
The court's ruling may be appealed.
The Illicit Gains Authority had referred Sherif and his two sons to trial for illegally making profits amounting to EGP300 million ($33.7 million).
An investigation revealed that Sherif made the aforementioned profits by using his various public posts for personal gain. Sherif was the head of the State Information Service, an official news service and public relations agency; the head of Egyptian Radio and Television Union; minister of information and speaker of the parliament's upper house, the Shura Council.
Meanwhile, the Illicit Gains Authority announced last month it was looking into 35 corruption cases involving a number of Mubarak-era businessmen with the aim of establishing "reconciliation" deals, that involve negotiating financial and other settlements.
Egypt's authorities came into confrontation with a long history of corruption cases involving several Mubarak-era ministers and businessmen following the January 2011 uprising, which toppled Mubarak after 18 days of mass protests.
Egypt launched a national strategy to fight corruption in December 2014. One corruption case that has sent ripples across the country was that of former agriculture Minister Salah al-Din Helal, who was arrested in September 2015 after he submitted his resignation. The Egyptian Cabinet submitted its resignation days after Helal's arrest.
In a high-profile case, he and three others were put on trial in October over accusations of bribery and corruption. The court sentenced Helal to 10 years in prison and fined him EGP 1 million in the case in April.
Egypt ranked 88 out of 168 countries in Transparency International's Corruption Perception Index 2015, with a score of 36 on a scale where 0 means highly corrupt and 100 means very clean. The 2015 score represents a slight deterioration from the year before when Egypt's score was 37.