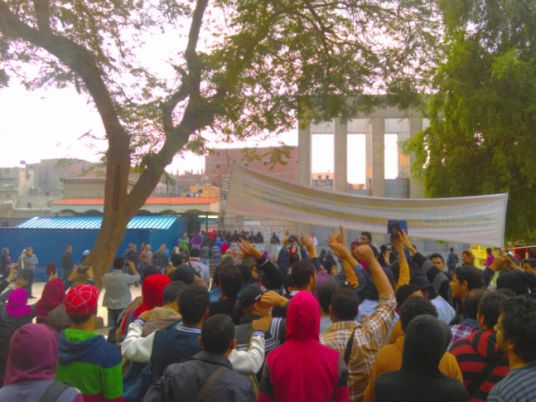 University students from all over Egypt turned out on Sunday to protest against the acquittal of all charges facing ousted president Hosni Mubarak.
Students waved banners of martyrs, called for retribution and chanted that the revolution will continue.
According to the media the security forces stormed the campus dispersing the protest and closed the university door close to the metro station.
In Alexandria University, Falcon security forces clashed with students protesting against the acquittal claiming that they were using fireworks in the demonstration.
The students demanded justice for those killed in the revolution and chanted with "we won't give up our son's right" and "they killed our brothers and sisters and then were acquitted."
In Minya University, security forces arrested nine protesting students against Mubark's acquittal.
Meanwhile, students at Ain Shams University organized a protest they entitled "Back but to Hell." The protest launched from faculty of engineering and then the students marched across the campus raising photos of martyrs and chanting "Down with Hosni Mubarak," "The Interior Ministry are thugs" and "Down with the regime of tanks."
The media reported that security personnel arrested six students that were protesting against the acquittal. The students repeated slogans against military and security forces.
Moreover, massive protests took place at private universities as students at 10th of Ramadan Technology Institute, Misr University for Science and Technology and Shorouk Academy launched a massive march protesting against Mubarak's acquittal demanding for retribution for martyrs.
On Saturday morning, the Cairo Criminal Court's Mubarak, his former Interior Minister Habib al-Adly and his six aides of all charges in connection with the killing of protesters during the January 2011 revolution.
By Saturday evening, dozens of protesters massed in Abdel Moniem Riyad square. Two were killed and at least 85 were detained, including four journalists, during the dispersal of the demonstration, carried out by security services using tear gas.