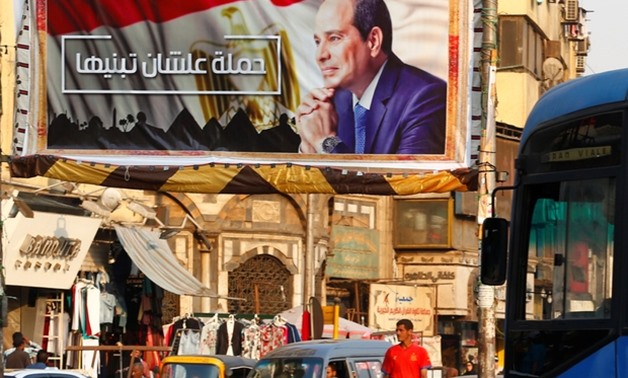 Nazaha (Integrity) coalition issued a report monitoring violations committed by the pro-President Abdel Fattah al-Sisi campaign during the candidate's campaigning phase, which ended on March 23.
The report, which was co-authored by Maat Foundation for Peace, Development and Human Rights (Egypt), Volunteers Without Borders (Lebanon), and the Ecumenical Center for Human Rights (Switzerland), said that the propaganda phase lasted for about a month, during which it was suspended for five days because of the expatriate vote.
The report noted that the propaganda stage witnessed a wide disparity between the activities of the candidates. While the streets and squares across the country were filled with various propaganda to support Sisi, the propaganda presented by the candidate of the Ghad party Moussa Mostafa Moussa was very limited.
The report said that the coalition did not receive or monitor complaints from candidates or their campaigns regarding the violation of the electoral rules.
The coverage of state-owned television channels and newspapers was largely neutral, while most private media was biased toward Sisi.
The coalition noted many violations of the rules governing the elections, most notably the participation of executive officials in conferences and rallies to support Sisi, especially the governors of Kafr al-Sheikh and Qaliubiya.
Some churches, especially in Upper Egypt, witnessed similar events where churchmen and MPs took part even though propaganda for candidates is prohibited in houses of worship, the report added.
Youth centers, which are government facilities, also hosted pro-Sisi rallies, in violation of the law, the report stated.
Sisi banners were hung on the walls and facades of government buildings, including post offices and police stations, youth centers and others, said the report.
Edited translation from Al-Masry Al-Youm