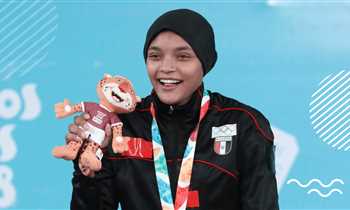 Neama Said, an Egyptian female weightlifting champion, won Egypt's first gold medal in the World Weightlifting Championships in the under 67 kg weight category.
Said won three medals for Egypt, two gold and one silver.
Tashkent, the capital of Uzbekistan, hosts the Men's and Women's World Weightlifting Championships from December 7-17.
The 19-year-old Said lifted the 106 kg weight category in the snatch competition to win the gold medal.
Naama surpassed Han Ji-an, the South Korean champion, who only lifted 99 kg.
Said lifted three successful attempts with weights of 100, 103 and 106 kg, respectively, before preparing to compete in the clean and jerk competitions.
She won the silver in the clean and jerk competition by 127 kg, 8 kg behind Taiwan's Chen Wen Hui.
In total, Said lifted a total of 233 kg, while the Taiwanese player only 232 kg, to win the Egyptian champion the gold in the total.
Said began her international career in 2018 by winning the silver of the African Junior Championships, before achieving the gold of the Youth Championship and the gold of the African Youth Games in the same year.
Said participated in the Junior World Championships in March 2019 and won the gold medal in the under 59 kg category.
Finally, she won silver at the African Women's Championship in April 2019 in the under-64 kg category.
The International Weightlifting Federation had suspended the Egyptian Federation for a period of two years in 2016, due to the discovery of 4 players of doping in the African Junior Weightlifting Championship.
It was once again proven that some Egyptian lifters abused doping during the African Games, which were held several months ago in Morocco, including Sarah Samir, who won bronze in the 2016 Rio de Janeiro Olympics.
The Egyptian Olympic Committee submitted an appeal to the Court of Arbitration for Sport (CAS) against the decision because the incident of youth doping was in 2016. If the decision had been implemented against the Egyptian Federation at that time, the suspension would have ended at the present time, and then the Egyptian weightlifting team has the right to participate in the Tokyo 2020 Olympics, which what did not happen.
Egypt did not participate in the 2019 World Championships or the 2020 Tokyo Olympics.