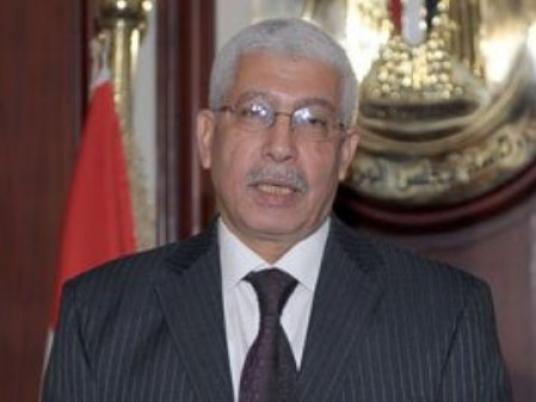 A public finance professor with an Islamic finance specialization, and no experience in government or politics, has been named the country's new finance minister. Al-Morsy Hegazy was appointed by President Mohamed Morsy on 6 January to replace former Finance Minister Momtaz al-Saeed, who held that position since December 2011.
The Muslim Brotherhood has denied rumors circulated in the local media that Hegazy is a member of the religious organization. But his expertise in Islamic finance has led to his characterization as sympathetic to the Islamist agenda of the Freedom and Justice Party, the Brotherhood's political arm.
Hegazy's appointment was part of a Cabinet reshuffle that came during a senior IMF official's visit last week to resume negotiations on a US$4.8 billion loan. In brief comments to the press soon after his appointment, the new minister said he was "completely ready to complete discussions" with the Fund.
Economists agree that securing the loan is essential to attracting additional aid and investment from abroad to ease the government's ballooning budget crisis, and avoiding a massive currency devaluation.
The selection of Hegazy for the crucial post has drawn criticism from opposition groups, who demand a technocrat government that is more representative of the country's political spectrum.
The Cabinet reshuffle increased the number of ministerial portfolios held by members of the Muslim Brotherhood from five to eight.
Islamic finance expert with a neoliberal bent
A career academic, Hegazy is not widely known within the country's professional business and finance circles. Economic experts contacted by Egypt Independent for this story were mostly unfamiliar with the man and his positions.
Hegazy received a master's degree from Alexandria University in 1976, according to Reuters. He went on to earn a PhD in economics from the University of Connecticut in 1985, with a dissertation on the role of oil in Kuwait's economic growth.
Hegazy returned to Egypt after his studies and took up a teaching post at Alexandria University as a professor of public finance in the Faculty of Commerce. His academic career includes a stint at King Saud University in Saudi Arabia from 1990 to 1996. Among his scholarly publications are studies on Islamic finance, as well as privatization and the World Trade Organization.
Amr Adly, an economist at the Egyptian Institute for Personal Rights (EIPR), describes his preliminary impression of Hegazy's views as "quite neoliberal."
"It seems to be an ideological stance against taxation," Adly says. "He's more into charity-based distribution schemes together with sukuk [Islamic bonds] as a means of financing the state."
Sukuk refers to a broad range of financial products consistent with Islamic law by which the financier becomes a partner in a debt, an asset or an enterprise. Prime Minister Hesham Qandil's Cabinet advocated sukuk issuances last year as a way out of the nation's soaring budget deficit.
The selection of a finance minister based solely on his Islamic finance qualifications at this critical juncture in the economic crisis is cause for concern, according to Salwa Antary, a former manager of the National Bank of Egypt and head of the Egyptian Socialist Party's economics committee.
"What the country needs is not Islamic finance," says Antary. "What it needs is a clear change, a clear plan for economic development, for tackling the urgent problems facing the Egyptian economy now."
Antary does not doubt that Hegazy is a member of the Muslim Brotherhood. Adly describes him as "very close" to the group, if not a full member.
The polarized nature of Egyptian politics these days has led many opposition groups to place Hegazy squarely in the Brotherhood camp. They decry his appointment as a further step towards the Brotherhood's monopolization of top government positions.
A scapegoat position
Hegazy takes over the finance ministry from Saeed, one of the few holdovers in Qandil's Cabinet from the former Prime Minister Kamal al-Ganzouri.
Saeed reportedly clashed with Morsy in recent months, most notably over a series of unpopular tax increases aimed at fulfilling conditions for the IMF loan. The measures were embarrassingly repealed hours after being made public through an announcement on the president's Facebook page.
Adly describes Saeed as "a scapegoat," on whom Morsy could blame the deteriorating economic situation.
The Egyptian pound lost more than 4 percent of its value in the first week of this year, according to Reuters. Foreign currency reserves have plunged by more than half since the revolution in January 2011.
Hegazy may face a similar fate; few expect the new minister to remain in his position after the upcoming parliamentary elections slated for April of this year.
Austerity measures required to secure the IMF loan will likely prove unpopular with wide swaths of the electorate.
"It's all about the timing," says Adly. "Because the Brothers don't want to lose any popularity, and they believe they can keep running the state without making any hard decisions. After the parliamentary elections, they can introduce fiscal readjustment and not get penalized directly."