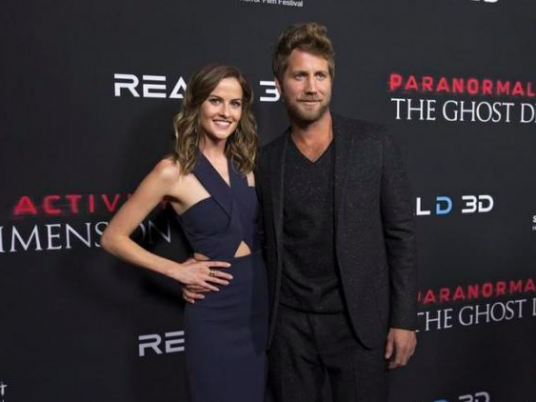 For six years, horror fans have wondered what the supernatural entity is scaring the "Paranormal Activity" movie franchise, but as they get their answer with the final film, ghosts could be cast aside for horrors rooted in reality.
"Paranormal Activity: The Ghost Dimension," which opened last weekend just in time to entice the Halloween revelers, concludes the tale that began in 2009 with Katie and Micah, a couple who are stalked at home by a supernatural entity.
"Paranormal Activity," a found-footage, or pseudo documentary style, horror made for around US$15,000 and acquired by Paramount Pictures, revolutionized the horror movie genre after grossing US$193 million worldwide.
Katie's possession by a demon named 'Toby' led to four more films and a spin-off, and brought a slew of ghost-centric micro-budget movies, replacing the gory fare that dominated horror in the 2000s, such as "Saw" and Eli Roth's "Hostel."
"Horror has been more supernatural than bloody, and I think that had a lot to do with the 'Paranormal Activity,'" franchise producer Jason Blum told Reuters in an interview.
But as "Paranormal Activity" wraps up with "Ghost Dimension," Blum believes horror may be taking a more psychological and human turn.
The producer suggested that his 2013 movie "The Purge," about a society in which all crime is legal for 12 hours, may usher in an era of psychological horror that humans can inflict on each other.
"The Purge" will see a third installment next year, while this summer's "The Gift" and "The Visit," all produced by Blum, served up real life fright.
Horror has not quite given up the ghost yet, and neither has Blum whose production company Blumhouse Productions leads the way in making horror movies on tiny budgets that turn big profits and use new distribution models. Since 2009's "Paranormal Activity," Blum has produced more than 30 films in the horror genre.
Blum's found-footage horror "The Gallows" made for $100,000 has grossed $23 million in North America since July. The producer has numerous projects leading into next year that find scares in the supernatural, such as "Ouija 2" and "Amityville: The Awakening."
"There's an appetite for more scary movies every year," Blum said. "There's a real market for hardcore fans – not millions but hundreds of thousands – and there's new distribution avenues to get to them."
Paramount will release "Ghost Dimension" on-demand just 17 days after its release in movie theaters rather than the usual 3-6 months.
Studios are flocking to work with Blum, as are veteran directors experimenting with the micro-budget format.
"He's succeeded so many times, (the studios) feel like he's seeing things the audience will enjoy that they're not seeing," said M. Night Shyamalan, whose summer release "The Visit" was made for US$5 million and topped US$63 million at the box office.
Roth's cannibal horror "The Green Inferno" capitalizes on the appetite for human-inflicted horror, but the director said he had to partner with Blum to get the film on US screens.
"I have a nose for doing something that's different, and that's exactly what scares distributors," Roth said. The film has grossed US$7 million since its September release.
And then there is "Creep," a stranger-danger horror by Mark Duplass and Patrick Brice made for under US$1 million and released with Blum's help exclusively to Apple Inc's iTunes in July and Netflix three weeks later.
"It opens up a whole new audience for me of people who might not have known who I was," said actor-filmmaker Duplass. "For guys like me and Jason Blum, it's the game of trying to figure out ways of how to get our audiences."