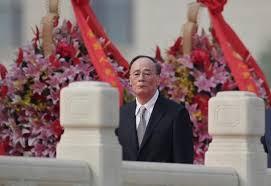 China implied on Monday a new job could be in the offing for Wang Qishan, the powerful former top graft-buster and a close ally of President Xi Jinping, with an announcement that he had been chosen as a delegate to the annual meeting of parliament.
Wang stepped down from the seven-man Politburo Standing Committee, the apex of power in China, during a leadership reshuffle in October at the end of the once-in-five-years Communist Party Congress, amid intense interest in whether he would leave the post.
Aged 69, Wang had reached the age at which top officials tend to retire, but sources with ties to the leadership have told Reuters Xi could keep him on in some capacity, thanks to his loyalty and history of successfully tackling tough issues such as corruption.
Wang has been appointed a delegate to the largely rubber stamp parliament from the southern province of Hunan, according to a notice on the official Hunan Daily's WeChat account that lists all the province's parliamentary delegates.
Wang was previously a parliamentary delegate from the Chinese capital, Beijing.
The notice gave no other details or reason why Wang had been kept on as a delegate, and it was not possible to reach him for comment.
The move is significant because if Wang does not retire, that could set a precedent for Xi to stay on in power after he completes the traditional two terms in office.
The national parliament opens in March, and provinces are now selecting their delegates to it.
It is unclear what new role Wang could be given, though leadership sources and diplomats say he might become the country's new vice president, with a possible focus on relations with the United States.
The State Council Information Office, which doubles as the party spokesman's office, did not immediately respond to a request for comment.
Wang, who keeps a low public profile but is often described as China's second most powerful politician, has not been totally out of the limelight since the end of the congress, for example, attending a banquet Xi hosted for US President Donald Trump in November.
Wang was at the forefront of Xi's anti-corruption push launched some five years ago as head of the party's graft fighting Central Commission for Discipline Inspection, which has been responsible for jailing dozens of top officials.
He has a strong economic background also, previously serving as a vice governor of the central bank, and, as a vice premier with an economic portfolio, helped oversee China's recovery from the 2008 global financial crisis.
Wang has experience managing relations with the United States too, heading the China delegation for the economic track at the once annual US-China Strategic and Economic Dialogue.