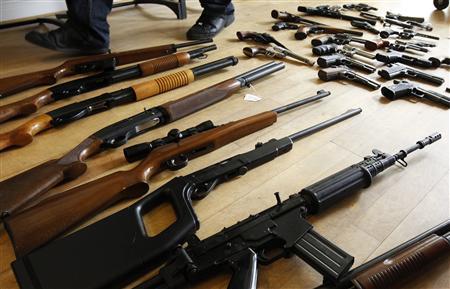 Military-style semi-automatic and automatic firearms like the ones used in the deadly attack on two mosques in Christchurch on March 15 will no longer be available in New Zealand, the prime minister announced on Thursday.
"Every semi-automatic weapon used in the terrorist attack on Friday will be banned," Jacinda Ardern said.
The ban will apply to all military-style semi-automatics (MSSA) and assault rifles, along with parts used to convert weapons into MSSAs and all high-capacity magazines.
Few exemptions
She added that the law is set to come into effect on April 11 and that government is working on a large-scale buy-back plan to encourage owners of now-banned weapons to surrender them. She did not say what measures would be taken to enforce the new law.
The suspect charged in the attacks had bought his weapons legally using a standard firearms license. He then illegally enhanced their capacity by using 30-round magazines, which was "done easily through a simple online purchase," Ardern said.
Police have not yet released details of exactly which weapons he used, but footage suggests at least one of the weapons was a semi-automatic rifle similar to an AR-15 that has been widely available in New Zealand.
Ardern, who had vowed to tighten the country's lax gun laws in the immediate aftermath of the attacks, said the Cabinet will work on legal exemptions to the ban, such as for farmers needing to cull their herds but said any exemptions would be "tightly regulated."
Move welcomed
New Zealand is home to less than 5 million people and has an estimated 1.2 million to 1.5 million firearms, around 13,500 of them MSSA-type weapons.
Most farmers own guns, which they use for killing pests and putting down injured stock. Recreational hunting is popular, and gun clubs and shooting ranges are a common sight.
Read more: Opinion: Empathy is what makes us human
Federated Farmers, which represents thousands of farmers, said it supported the new law.
"This will not be popular among some of our members but…we believe this is the only practicable solution," Rural Security spokesman Miles Anderson said in a statement.
The farmers' lobby had previously opposed tougher gun laws.
The country's largest weapons retailer, Hunting & Fishing New Zealand, also supports the ban.
"While we have sold them in the past to a small number of customers, last week's events have forced a reconsideration that has led us to believe such weapons of war have no place in our business or our country," Chief Executive Darren Jacobs said in a statement.
Read more: Christchurch: The myth of the lone-wolf attacker
Friday prayers
Meanwhile, preparations were underway for a mass burial and a Friday prayer service to be led by the imam of one of the two mosques where worshippers were killed.
Imam Gamal Fouda said he is expecting 3,000 to 4,000 people at Friday's prayer service, including many who have come from abroad.
It is to take place in Hagley Park, a city landmark across from the Al Noor mosque that was targeted last Friday, with members of the Linwood mosque also attending.
ng/sms (Reuters, AP)