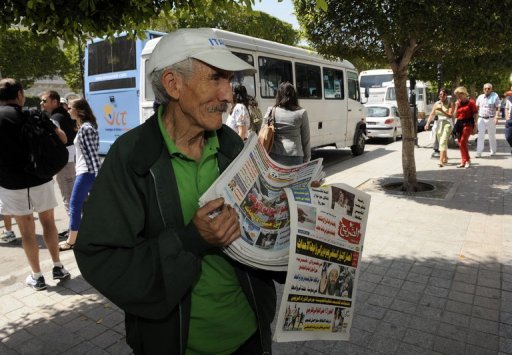 The Supreme Press Council (SPC) approved on Sunday an increase in prices for governmental and privately-owned newspapers. Daily newspapers will now cost LE2, while weeklies will cost LE3.
The SPC attributed the price hike to the increase in the cost of paper, print supplies and ink as the American dollar rates have surged against the Egyptian pound. The increase in fuel prices and other energy sources have also contributed to the rise.
Newspapers affected by the increase include Al-Ahram, Al-Akhbar, Al-Watan, Youm7 and Al-Shorouk. Al-Masry Al-Youm, however, refused the price increase and preferred to be sold at the same price.
The new increase comes amid a marked reluctance for newspapers readabilty, according to specialists who say the distribution of print newspapers nows stands at approximately 680,000 copies throughout the country, after its peak following the 25 January revolution of nearly 2.5 million copies.
Egypt Independent spoke to a newsstand owner in Garden City who confirmed that the prices for the newspapers rose today, with the exception of Al-Masry Al-Youm whose price is still LE1.5.
Head of the distribution section at Al-Masry Al-Youm, Magdy al-Hefnawy explained that the paper refused to raise its price for fear of losing readers under an already low turnout of the daily publication due to the proliferation of news websites, SMS services and talk shows.
"I believe the increase in prices will have a temporary effect on reader's appetite for a while, but they will come back and buy them again," he said.
Some readers had a different point of view, like Shaimaa Raffat, 25, a social media employee. She is against the decision, arguing "it's too much money".
Raffat said that raising the cost of the newspapers is a big reason for her to stop buying print issues and read online news instead, as it is a free service.
Magda Hosni, 50, a housewife, said, "I've been regularly reading newspapers for thirty years, but with the recent decision to increase the prices, I find that too much money will be paid for newspapers."
"Recently I've been learning to use the Internet and I found it's easier and costs less to read many newspapers daily. Especially now that the cost of newspapers has gone up, I've decided to quit buying print versions except Al-Ahram on Fridays and Saturdays because I consider them special editions," said Hosni.
Echoing Hosni's sentiments, Hossam Al Hawary, 35, a wrought iron factory owner, said that he stopped reading newspapers a while ago due to online services which are much easier, but he kept buying Al-Ahram's Friday issue. After the new decision to increase the prices, however, he has decided he will quit buying it.
Mahmoud Abdel Moniem, 56, an engineer at the Housing Ministry, said that he used to buy two newspapers on a daily basis, Al-Ahram and Al-Masry Al-Youm, but after the increase he will only buy Al-Masry Al-Youm and only purchase the Friday edition from Al-Ahram.