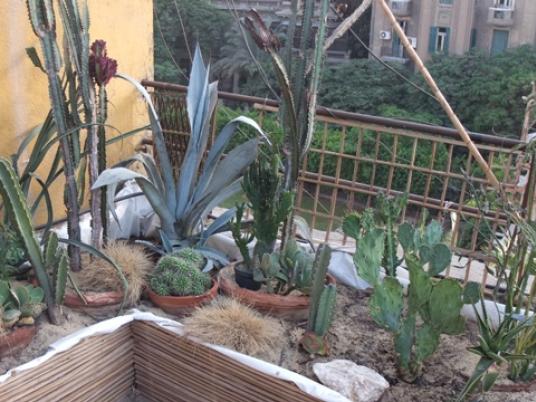 The NGO Ain al-Biaa — "Source of the Environment" in Arabic — has chosen the neighborhood of Sakr Qurish in Basatin, south of Cairo, to implement its vision for greener cities.
If the project gets the go ahead, litter in Basatin could "completely disappear" in as little as six months and green spaces could become a common sight within a year, according to Ahmed Moawad, head of the organization.
"If the initiative proves to be successful, we will be enthusiastic to replicate the project in other governorates across Egypt," he says.
But first Ain al-Biaa must get final approval from authorities. Although the group received consent from the head of Basatin, it still needs permission from the Cairo Cleaning and Beautification Authority, "which is not a simple task," adds Moawad.
He is hopeful that the project will get the green light based on its innovative methodology.
"Our project includes digging underground dumpsters for safer and easier collection of garbage, cultivating public squares, installing rooftop gardens and redrawing road maps with the help of the Central Traffic Department to solve traffic crises," Moawad says.
A conventional street trash bin is about a meter and a half tall. For children and the elderly, throwing garbage inside can be difficult so they often put the bag outside the bin.
"This, in turn, attracts stray animals that rip the bags open and scatter the trash around, which facilitates the transmission of different types of diseases," Moawad says.
He adds that underground trash bins are convenient and easy to use. They open and close automatically after throwing garbage inside.
And he is particularly excited by the rooftop gardening aspect of the project, which could provide families with a new source of income.
"For poorer families, growing plants on their rooftop could help them be self-sufficient diet-wise, and the extra vegetables can be sold and provide additional income," he says.
Families who are able could also adorn the rooftops with decorative plants to create a relaxing atmosphere, Moawad says, adding that his group will teach people soilless agricultural methods.
The project involves direct communication with area residents and relies on their involvement in all activities.
"While we don't intend to collect garbage from the houses, we need to apply the principles of community participation by increasing people's awareness about their responsibilities toward society," he notes.
Before implementing the project, the association plans to hold a ceremony to introduce the project to residents. Another group of young volunteers will visit residents' homes to explain the program in more detail.
Moawad also plans to harness the spirit of healthy competition between residents by highlighting a particular building each month where residents have shown goodwill and cooperation.
"To reward them and set them as an example, we will cover the building's walls with plants," he says.
He says that residents who commit to following garbage-sorting instructions will also be given small rewards made of recycled materials to encourage them to sustain their positive behavior.
This piece was originally published in Egypt Independent's weekly
print edition
.