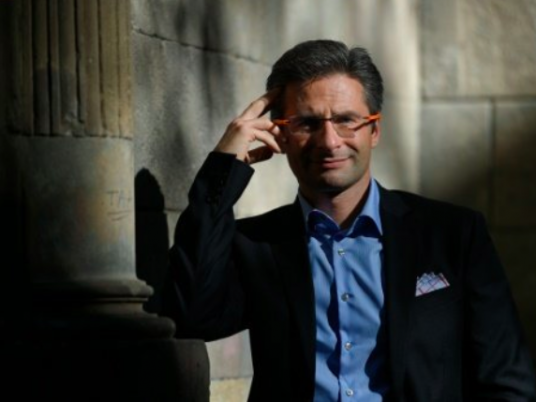 More than a month after the Vatican fired high-ranking priest Krzysztof Charamsa for his very public coming-out, he says he has no regrets and is planning a book about his experience.
The Polish priest made waves last month when he announced his homosexuality — and said he had a Spanish boyfriend — on the eve of a bishops' synod on the family at the Vatican.
Charamsa was sacked from his post working for the Vatican office for protecting Catholic doctrine, and the 43-year-old is now unemployed.
"I now feel better gay and more of a priest than before," he told AFP at a hotel in the heart of Barcelona, where he now lives in the gay district.
Smiling, he said he felt "liberated" and "at peace", but still had a lot to say about the Church, which he accuses of persecuting homosexuals.
"It's not like the Islamic State (group) that hounds homosexuals by killing them. The Catholic Church doesn't actually kill people, but it kills them psychologically," he said.
"It kills them with its backward stance, with its reject, contempt and constant preaching against homosexuals."
Sporting a black suit and blue shirt, Charamsa detailed his "New manifesto for gay liberation", which he plans to hand over to the Vatican in the hope of changing the Church's stance on homosexuality.
"A form of new Ten Commandments to apply in this field", it asks the Vatican to discard Church documents that are hostile towards homosexuals, such as Benedict XVI's 2005 edict banning bishops from ordaining homosexuals into the priesthood.
As such, the manifesto calls on the Vatican to allow gays to become priests, and also to revise its interpretation of Biblical texts on this issue.
It also suggests kickstarting dialogue with Evangelists and Anglicans, whom Charamsa says are more open on gay rights, and asks for apologies from the Vatican "for its omissions and silences, persecutions and crimes against homosexuals throughout the centuries."
'Accomplice of anti-homosexual terror'
Catholic doctrine currently considers homosexual acts as "disorderly" and "immoral."
"It's like saying Earth is flat and still. They are closer to the stances of Islamic fundamentalism than to reason," he said.
According to Charamsa, the position of the Church is based on short, vague extracts of the Bible, which does not explicitly condemn homosexuality.
These extracts must be understood "in the historical and cultural context of when they were written."
"Centuries ago, we used the Bible to defend slavery," he pointed out.
In his manifesto, Charamsa also asks the Church not to criticise gay marriage, and points out that it abstains from condemning the criminalisation of homosexuality in some countries.
The Church is actually "happy with these cases of persecution and criminalisation, because criminalising homosexuality is the legal confirmation of its teachings on homosexuality."
"As long as it does not openly reject and condemn this criminalisation, it is an accomplice of anti-homosexual terror."
The current Pope Francis has signalled a more compassionate and pragmatic approach to homosexuality than his predecessor.
He famously quipped "Who I am to judge" in 2013 when asked about gay people in the Church, pulling the rug from under centuries of teachings that homosexual acts are sinful.
But the Church has so far failed to soften its approach to gay people.
A former theology professor in Rome, Charamsa hopes to be able to start teaching again at university and write a book about his experience as a homosexual in the Vatican.
He would like all homosexual priests to come out of the closet "to show the Vatican that we exist and that we are good priests."
If it kicked them all out, "it's possible that the Church would find itself very alone."