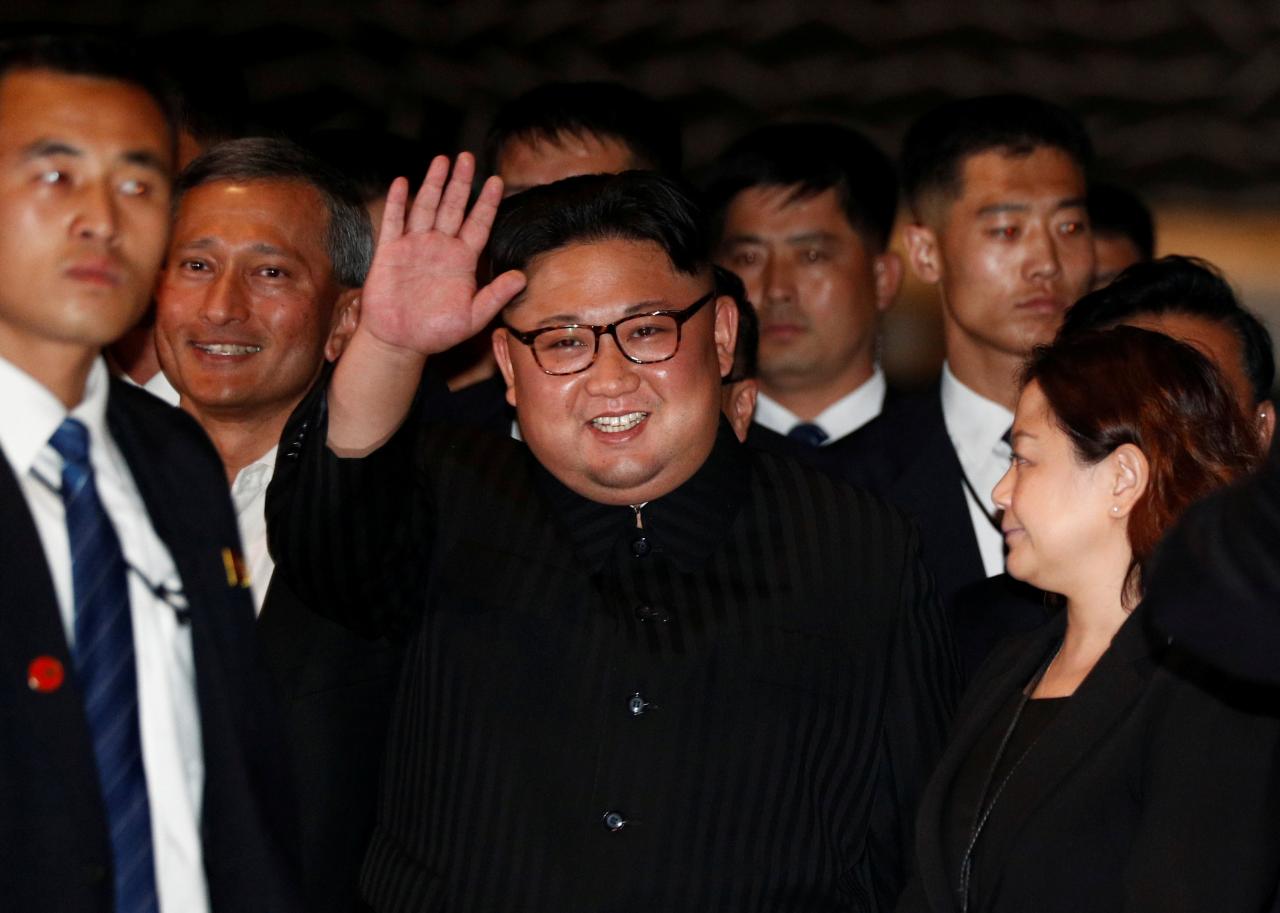 North Korean leader Kim Jong Un arrived in Beijing on Tuesday, where he will likely brief Chinese President Xi Jinping on his summit with US President Donald Trump last week, as Washington and Seoul agreed to suspend a major joint military exercise.
This is Kim's third trip to China this year, coming a week after he met Trump in Singapore for historic talks.
Trump agreed to work with Kim toward complete denuclearization of the Korean peninsula, committed to provide the North's regime with security guarantees and pledged to end "war games", which Pyongyang and Beijing have long seen as provocative.
South Korea and the Pentagon announced they would halt the annual Freedom Guardian military drill scheduled for August.
In an unusual move, Chinese state media announced Kim's visit and said he would stay for two days. Previously China would only confirm Kim had visited after he had left the country.
"We hope this visit can help to further deepen China-North Korea relations, strengthen strategic communication between both countries on important issues and promote regional peace and stability," China's foreign ministry spokesman Geng Shuang said at a regular briefing. He did not elaborate.
A Kim trip to China to discuss his summit with Trump had been widely anticipated in diplomatic circles. China is North Korea's most important diplomatic and economic backer but has been angered by its nuclear and missile tests.
Police tightened security along Beijing's main Changan Avenue, which leads to the Great Hall of the People where Chinese leaders usually meet visiting heads of state, and also outside the Diaoyutai State Guest House, where Kim stayed with his wife during a visit in March.
Outside the east gate of the Great Hall, where foreign leaders are officially welcomed, authorities had erected a screen running the full length of the road, cutting off the view.
South Korea's foreign ministry spokesman said South Korea and China shared the strategic goal of completely denuclearizing the Korean peninsula.
"Our government hopes China will play a constructive role in resolving this problem," ministry spokesman Noh Kyu-deok told a regular briefing.
"We hope Chairman Kim Jong Un's visit will contribute to that."
"Dual Suspension"
China has welcomed the warming of ties between the United States and North Korea, and offered to help.
China has been particularly pleased by Trump's decision to suspend military drills with South Korea.
China has long proposed a "dual suspension", whereby North Korea stops weapons tests and the United States and South Korea stop military drills, to encourage talks.
"South Korea and the United States have agreed to suspend all planning activities regarding the Freedom Guardian military drill scheduled for August," South Korea's defense ministry said in a statement.
The Pentagon confirmed the suspension, adding in a statement there would be a meeting of the secretaries of defense and state as well as Trump's national security adviser on the issue this week.
Last year, 17,500 American and more than 50,000 South Korean troops participated in the Ulchi Freedom Guardian drills, although the exercise is mostly focused on computerized simulations rather than live field exercises that use weapons, tanks or aircraft.
The US-South Korean exercise calendar hits a high point every spring with the Foal Eagle and Max Thunder drills, which both wrapped up last month.
The decision to halt military exercises in South Korea has bewildered many current and former US defense officials, who only learned about it when Trump announced it in Singapore, after the summit with Kim.
Japan's Chief Cabinet Secretary Yoshihide Suga said there would be no changes to joint drill plans between the United States and Japan, both of which regularly practice to deter North Korea.
"The United States is in a position to keep its commitment to its allied nations' defense and our understanding is there is no change to the US commitment to the Japan-US alliance and the structure of American troops stationed in Japan," Suga told a regular briefing.
Cost of Drills?
The Pentagon has yet to publicly release the cost of previous and future joint military exercises with South Korea, a week after Trump cited their "tremendously expensive" cost as a reason for halting them.
Spending data for previous military exercises in Korea and elsewhere, however, suggest that the cost of a single exercise would be in the low or perhaps tens of millions of dollars in a US military budget this year of nearly $700 billion.
In response to repeated requests for cost data, Pentagon spokesman Lieutenant Colonel Christopher Logan, said: "We are currently evaluating the costs of the exercises."
Calculating the cost of military exercises is a complicated process, often requiring data from different branches of the military and spread over several budgets over different years.
Troops who would have been involved in the exercises would still require training and certification, which would cost money, said Abraham Denmark, a former deputy assistant secretary of defense for East Asia under President Barack Obama.
"To me, the idea of this as a cost saving measure doesn't really make much sense," Denmark said.