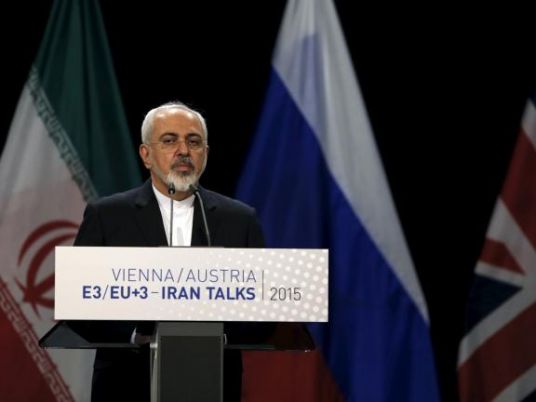 Iran's foreign minister called on Sunday for a united front among Middle Eastern nations to fight militancy, in his first regional trip since Iran reached an agreement with world powers on the country's nuclear program – an agreement that raised fears among its Gulf Arab neighbors.
"Any threat to one country is a threat to all … No country can solve regional problems without the help of others," Mohammad Javad Zarif said at a news conference hosted by the Iranian embassy in Kuwait.
Zarif earlier met Emir Sheikh Sabah al-Ahmed al-Sabah and Kuwait's foreign minister, Sheikh Sabah al-Khaled al-Sabah, who was not present at the news conference.
After Kuwait, Zarif traveled to Qatar, where he was to meet the Emir Sheikh Tamim bin Hamad al-Thani. He was due to go to Iraq next.
Most Gulf Arab states are worried that Iran's July 14 accord will hasten detente between Tehran and Washington, emboldening Tehran to increase backing for Middle Eastern allies at odds with Gulf Arab countries.
"Iran stands behind the people in the region to fight against the threat of extremism, terrorism and sectarianism … Our message to the regional countries is that we should fight together against this shared challenge," Zarif added.
Most Sunni Muslim-ruled Gulf Arab states have long accused Tehran of interference in Arab affairs, alleging financial or armed support for political movements in countries including Bahrain, Yemen and Lebanon.
Predominantly Shi'ite Iran denies interference but says the nuclear agreement will not change its policies in the region.
"Oppressed nations"
Before his Gulf visit, Zarif said in a statement posted on his ministry's website late on Friday that Tehran would continue supporting its allies in Syria and Iraq to fight against militant group Islamic State.
"The Iranian nation supports all oppressed nations," Iranian President Hassan Rouhani said earlier, during a visit on Sunday to Iran's Kurdistan Province:
"If it wasn't for Iran, Erbil and Baghdad would have also fallen to the terrorists (of Islamic State) … Just as we defended Dahuk, Erbil and Sulaymaniyah (in Iraqi Kurdistan), if any country in the whole region is a victim of aggression, the Iranian nation will defend the oppressed," Rouhani added.
Bahrain said on Saturday it had foiled an arms smuggling plot by two Bahrainis with ties to Iran and announced the recall of the Gulf island kingdom's ambassador to Tehran for consultations after what it said were repeated hostile Iranian statements.
Iran's Foreign Ministry spokeswoman, Marzieh Afkham, called this allegation "baseless and repetitive," saying Bahrain is only trying to "create tension in the region."
"This approach is not constructive and it will not stop Iran's trust-building policy to cooperate with regional countries to fight against extremism and terrorism," Afkham was quoted as saying by state news agency, IRNA.