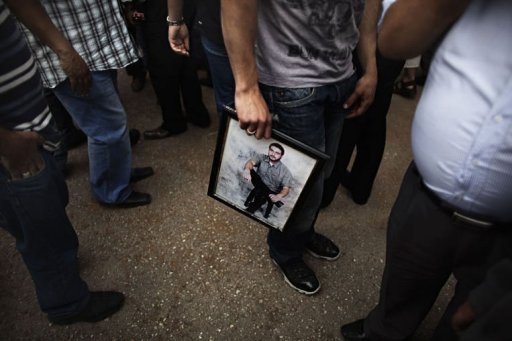 At least 1,550 Palestinians in Israeli jails are now taking part in a mass hunger strike, Israel's Prison Service said on Wednesday, with two of them marking their 64th day without food.
IPS spokesperson Sivan Weizman told AFP that another 100 prisoners had begun refusing food in the last two days, swelling the number of those on hunger strike to 1,550 — or more than a third of the total Palestinian prison population of 4,700.
Two of them, Bilal Diab and Thaer Halahla, have been on hunger strike for 64 days, with Physicians for Human Rights-Israel warning that both were in danger of dying.
On Thursday morning, the Israeli Supreme Court was to hear an appeal against their being held in administrative detention, a procedure under which suspects can be held without charge for renewable periods of up to six months at a time.
Diab was on Tuesday moved from Ramle prison infirmary to the nearby Assaf HaRofeh hospital, a day after PHR warned that he was in "immediate mortal danger" and not receiving adequate medical attention.
"Bilal is in a stable condition after being transferred to the gastroenterology department of Assaf HaRofeh hospital," his lawyer Jamil Khatib told AFP.
Jawad Boulos, legal advisor to the Palestinian Prisoners' Club, who visited Diab on Wednesday, said he was shackled to his hospital bed and watched over by four security guards.
Diab was refusing to deal with the doctors until they removed his shackles and he told the guards: "The more cruel you become, the more insistent I become on my position and belief that my freedom is the most precious thing in life," Boulos said.
A PHR doctor who examined Diab on Monday found he was suffering from stomach pains, with indications he could be suffering from internal bleeding.
She also said Halahla was in urgent need of a CAT scan.
Khatib, who is also representing Halahla, tried to visit him at Ramle prison infirmary on Wednesday but was refused permission, he told AFP.
The vast majority of prisoners began refusing food on 17 April in a demand for improved conditions, including increased access to lawyers and family visits, an end to solitary confinement and an end to administrative detention.
Weizman said a prison commission was examining the issue of prison conditions, but gave no date for when its recommendations would be submitted.
She said the commission had begun its work before the start of the mass hunger strike.
Meanwhile, several hundred Palestinian students on Wednesday demonstrated outside Ofer military prison near the West Bank city of Ramallah, with some throwing stones at Israeli troops who responded with tear gas and rubber bullets.
At least four demonstrators were wounded by rubber bullets, an AFP correspondent said.