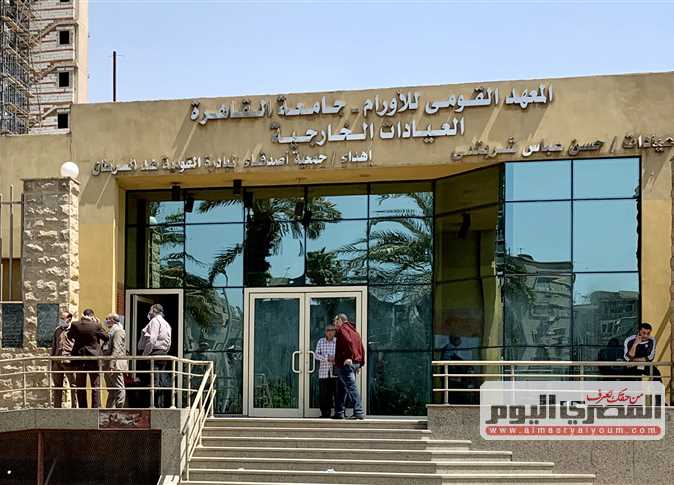 A nurse at Egypt's National Cancer Institute (NCI), blamed for spreading the coronavirus to over 15 medical staff there insisted on Saturday that he was not the institute's "patient zero."
Speaking to Al-Masry Al-Youm, the 26-year-old nurse also slammed claims that he contracted the virus while working in another private hospital.
Instead, he says he was working at the NCI's Dar al-Salam Cancer Center four months ago, and in that time hadn't been to the main headquarters which saw the infections.
He said he was infected in the center while nursing a girl with a tumor on March 21. After going to management, he claims they refused to test him and those he contacted because it would have been too costly.
The management only acted once another nurse and a doctor became infected, he said.
The nurse says he then entered isolation, during which he was moved from his isolation room inside the Dar al-Salam Cancer Center to the al-Munirah Fever Hospital, then the al-Abbasiya Hospital, until finally settling at the Helwan Fever Hospital.
He further claims that the nursing supervisor who tried to support and isolate him while he was still at Dar al-Salam was punished, being downgraded from the center's chief supervisor to a department supervisor in the main building.
Cairo University spokesperson Mahmoud Alam-Eddin announced Friday that 15 suspected coronavirus cases were discovered among medical staff at the NCI.
The NCI's director Hatem Abul Kassem said on Friday that this issue began a week ago, when a nurse with symptoms tested positive and was isolated.
During a Friday phone-call with TV host Amr Adib's show al-Hekaya (The Story), Kassem said that people in direct contact with the nurse have been isolated.
Egyptian President Abdel Fattah al-Sisi on Sunday ordered coronavirus testing for all of the NCI's staff and patients, as well as for everyone they have contacted during the past two weeks.
"In light of the circumstances at the NCI, where some workers were found to be infected with coronavirus, President Sisi instructed the government to quickly conduct medical tests on all of the Institute's employees, including doctors and nursing staff, as well as on all patients who visited the Institute during the past two weeks," a statement from the Egyptian president's office said.
The plan of action also includes restricting all contact with any positive cases, while also providing care for all infected persons, including undertaking immediate medical procedures for isolation and treatment, the statement said.
Egypt on Sunday confirmed seven additional deaths and 103 new coronavirus cases, bringing the country's number of confirmed total cases so far to 1,173.
Seventy-eight people have died from the virus in Egypt.
The newly infected cases are all Egyptian nationals, except for one foreign national, who returned from abroad or were in contact with previously confirmed cases in Egypt, Health Ministry Spokesperson Khaled Megahed said, adding that the total number of fully-recovered cases rose to 247 on Sunday, all of whom have been discharged from isolation hospitals.
Edited translation from Al-Masry Al-Youm