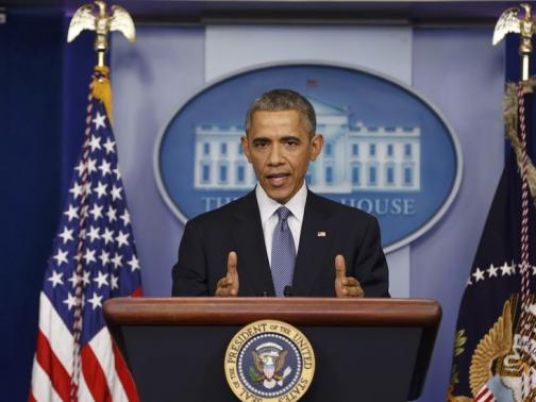 President Barack Obama on Saturday expressed hope that a new national museum showcasing the triumphs and tragedies of the African American experience will help to bring people together as the nation reels from recent racial upheaval.
Speaking at a dedication ceremony for the National Museum of African American History and Culture, Obama said that the story of black America is the story of America.
"This national museum helps to tell a richer and fuller story of who we are," said Obama.
"Hopefully, this museum can help us to talk to each other. And more importantly, listen to each other. And most importantly, see each other. Black and white and Latino and Native American and Asian American — see how our stories are bound together," he said standing on a stage outside the bronze-colored, latticed museum.
The museum, located on the National Mall, officially opened its doors on Saturday. It contains 36,000 items that trace the journey of African Americans from slavery in the 1800s to the fight for civil rights in the 20th century and lauds modern icons, such as media mogul Oprah Winfrey and tennis champion Serena Williams.
With a ring of a bell, Obama and wife Michelle and four generations of an African American family inaugurated the $540 million museum designed by Ghanaian-British architect David Adjaye, who was inspired by Yoruban art from West Africa.
'Place to understand'
Obama, who made history as the first black president of the United States, spoke as racial tensions flared once again across the nation in the aftermath of police shootings of two black men in the past two weeks.
In Tulsa, Oklahoma, a white police officer has been charged with manslaughter for fatally shooting Terence Crutcher, 40, whose car had broken down and blocked a road.
Violent protests broke out after a separate incident in Charlotte, North Carolina, where police shot Keith Scott, a 43-year-old father of seven.

The deaths were the latest in a string of fatal encounters between police and African Americans that have sparked unrest and threaten to overshadow Obama's legacy on race relations.
Obama said the museum's exhibits on the fight against racial discrimination and segregation could provide context for current movements against police brutality.
"It reminds us that routine discrimination and Jim Crow are not ancient history. We shouldn't despair that it's not all solved," Obama said, noting all the progress that the country has made just in his lifetime.
"This is the place to understand how protest and love of country don't merely coexist, but inform each other," he said.
The dedication ceremony was attended by a who's who of American officials, including Republican Speaker of the House Paul Ryan and Supreme Court Chief Justice John Roberts, as well as entertainment luminaries including Winfrey, Stevie Wonder and Will Smith.
The Obamas were joined on stage by former President George W. Bush, and his wife Laura. Bush signed the law authorizing construction of the museum in 2003.
"A great nation does not hide its history, it faces its flaws and it corrects them," Bush said.
Demand to visit the museum is high, with free tickets to the museum quickly snatched up online.
Obama has joined in the excitement for the new attraction. The first family enjoyed a private preview earlier this month. He also hosted a reception at the White House on Friday in honor of the opening and attended a star-studded concert heralding the museum at the Kennedy Center for the Performing Arts on Friday night.