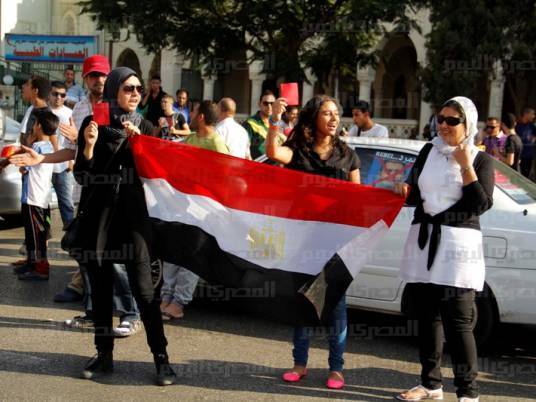 After violence in Egypt that killed three people including an American student, cities were quiet as protesters prepared for rallies on Sunday they hope can unseat the Islamist president.
The army was on alert across the country and warned it would step in if deadlocked politicians lost control of the streets.
Several offices of President Mohamed Morsy's Muslim Brotherhood were attacked on Friday, including one in Alexandria where two men died, including a 21-year-old American man. In Port Said on the Suez Canal, an explosion during an anti-Morsy protest killed another man, police said.
The United States, which has called for compromise, is evacuating non-essential diplomatic staff and warning citizens to avoid Egypt. A source at Cairo airport said dozens of U.S. personnel and their families left for Germany on Saturday.
In Cairo, a few hundred activists from rival factions were camping out in separate places. Islamist supporters were still outside a suburban mosque where they had gathered in the many thousands on Friday to vent anger and fear over a return of army-backed rule. Some speakers also urged reconciliation.
On Tahrir Square, seat of the uprising of early 2011, flags and tents formed a base camp for protesters. They hoped for millions on the streets under slogans accusing Morsy and the Brotherhood of hijacking the revolution against Hosni Mubarak to entrench their own rule. A rally was also planned outside the presidential palace, where some had already taken up position.
With short supplies of fuel adding to long-standing economic woes, many said they would turn out on Sunday, when Morsy marks his first year in office as Egypt's first ever freely elected leader, to demand a new president who can bring them prosperity.
Liberal opposition leaders dismissed an offer of cooperation from Morsy this week as too little too late. The Brotherhood, which says at least five of its supporters have been killed in days of street fighting, accuses liberals of allying with those loyal to Mubarak to mount a coup against the electoral process.
The opposition says the Brotherhood are trying to monopolize power, Islamise a diverse society and throttle dissent. They cite as evidence Morsy's broadsides against critical media and legal proceedings launched against journalists and satirists.
"CIVIL WAR"
Egypt's leading religious authority warned of the risk of "civil war" after violence in the past week that left several dead and hundreds injured. The clerics backed Morsy's offer to talk to opposition groups before Sunday's protests.
The United Nations, European Union and United States have appealed for restraint and urged Egypt's deadlocked political leaders to step back from a confrontation threatening the new democracy that emerged from the Arab Spring.
Medical and security officials in Alexandria, Egypt's second city, said the young American was fatally stabbed as he filmed events at the Brotherhood office in the Mediterranean port during an attack by anti-Morsy protesters, who eventually ransacked the building and set a fire, causing extensive damage.
Kenyon College in Ohio named him as one of its students, Andrew Pochter, from Chevy Chase, Maryland. He was working as a intern in the city at AMIDEAST, a U.S. organization which provides teaching and other services in the Middle East.
A Facebook post apparently from his family said Pochter was teaching English to 7- and 8-year-olds and improving his Arabic:
"He went to Egypt because he cared profoundly about the Middle East, and he planned to live and work there in the pursuit of peace and understanding," the post read.
"As we understand it, he was witnessing the protest as a bystander and was stabbed by a protester."
An Egyptian man was shot dead in the same area and officials said dozens of people were wounded, many by shotgun pellets.
It is hard to gauge how many may turn out on Sunday, but even those sympathetic to Islamic ideas are frustrated by the economic slump and many blame the government.
Previous protest movements since the fall of Mubarak have failed to gather momentum, however, among a population anxious for stability and fearful of further economic hardship.
Generals, who heeded mass protests in early 2011 to push Mubarak aside, have warned they will intervene again if there is bloodshed, and to defend the "will of the people." Both sides believe that means the military may support their positions.
The United States, which funds Egypt's army as it did under Mubarak, has counseled compromise and respect for election results. Egypt's 84 million people, control of Suez and its 1979 peace treaty with Israel all contribute to its global strategic importance.