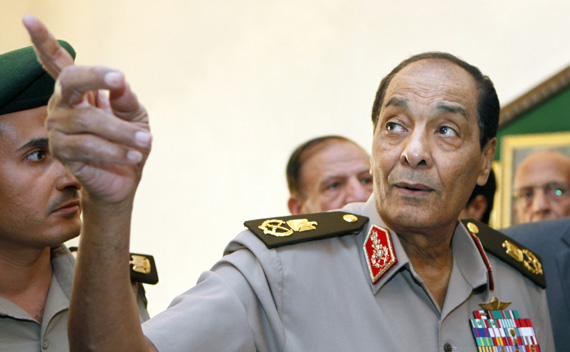 Field Marshal Hussein Tantawi reaffirmed his confidence in Prime Minister Kamal al-Ganzouri's cabinet on Friday and asked its members to continue work as normal, a high-level cabinet official has told Al-Masry Al-Youm.
The head of the Supreme Council of the Armed Forces and Egypt's de facto leader also called on certain ministers to follow up on how to address recent crises such as the diesel and gasoline shortages and foot and mouth disease.
The official said that the cabinet has agreed to wait for the Muslim Brotherhood's vote of no confidence against it, and that only the SCAF has the right to dismiss the cabinet.
Ganzouri held two meetings Friday: one with the minister of religious endowments and another with the Swedish ambassador to Cairo. The meetings can be considered a sign that threats by the Brotherhood's Freedom and Justice Party — which has a majority in Parliament — to withdraw confidence this week are being ignored.
Ganzouri held the meetings in the cabinet's alternative headquarters at the General Investment Authority in Nasr City.
The cabinet official said the SCAF has no intention of dismissing the cabinet and that the Brotherhood's escalation is only to cover up for its failure in organizing the constituent assembly. He said the FJP's call is negatively affecting the domestic situation, particularly the economy.
He said ministers are not clinging to their posts and that indeed they would rather not continue due to the difficulties experienced by the country.
The official claimed that the Brotherhood is currently trying to sabotage all the government's current efforts to address the difficult economic conditions, especially the continuing budget deficit, the decreased foreign reserves, and the increase of the balance of payments deficit.
Translated from Al-Masry Al-Youm