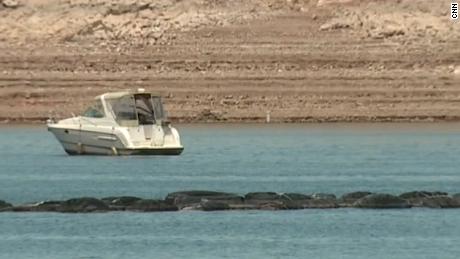 (CNN)For investigators working on the cases of people whose remains were found on the shore of Lake Mead, time is the enemy.
The bodies — one of which was found in a corroding barrel with a gunshot wound — could have been submerged in the lake's depths decades ago, leaving the three sets of remains in advanced stages of decomposition and making it increasingly difficult to extract DNA. But officials have already discovered key details, which they revealed to CNN, including confirmation that the gunshot victim's death was a homicide.
When police arrived at the lake's Hemenway Harbor on May 1 to investigate the discovery of a set of remains in a barrel, investigators immediately treated it as a homicide investigation, not waiting to get a confirmation from the coroner, Lt. Jason Johansson of the Las Vegas Metropolitan Police homicide unit told CNN. The gunshot wound was obvious, he said, and the circumstances clearly suspicious.
Clark County Coroner Melanie Rouse has since preliminarily ruled the cause and manner of death was homicide by gunshot and also said her office is submitting specimens from the remains to try to extract DNA. If DNA is found, it will also be sent to the FBI, which is assisting in the case, she said.
The remains, dubbed Hemenway Harbor Doe by the coroner's office, are one of at least three sets uncovered due to the dramatically receding water levels at Lake Mead, which has plunged to unprecedented lows amid a critical water crisis in the West.
Police previously announced they placed the Hemenway Harbor Doe's approximate time of death as sometime in the mid-'70s to early '80s, based on the victim's clothes and shoes. Johansson told CNN that the clothing was so well preserved in the freshwater environment that investigators were still able to read the clothing labels.
But without an ID, investigators are extremely limited. And the more time passes, the harder it will be to identify aging witnesses and potential suspects.
"If you think about what the age of who your witnesses or anybody related to this case would be, many of them are getting older every day. And they're at an age where you have to worry, are they even alive? And so I would say that's probably our biggest concern right now," Johansson said.
Rouse has preliminarily determined that the age of the person in the second set of remains — found on May 7 at Calville Bay — is approximately between 23 and 37 years old. While she couldn't confidently determine how the person died — meaning the preliminary cause of death is undetermined — the coroner's office is sending specimens to be examined for any potential DNA.