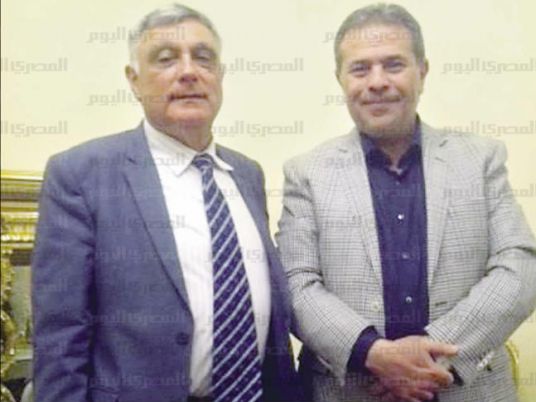 Parliament is to question MP Tawfiq Okasha over his recent unauthorised meeting with outgoing Israeli ambassador to Egypt Haim Koren, a meeting that breaks with a long-standing parliamentary boycott of Israel.
Israeli media outlets have circulated photos of the dinner at Okasha's residence in Daqahlia, which took place after the MP extended an invitation to the ambassador on his satellite channel Al-Faraeen.
Okasha said his initiative was intended partly to bring Israel in as a mediator in Egypt's dispute with Ethiopia over the latter's Grand Renaissance Dam, an ongoing project that Egypt fears will affect its share of Nile River water.
Defending his move, Okasha cited the peace treaty signed between Egypt and Israel in 1979, saying that Israel would be able to play a constructive role in the dispute.
His move drew harsh criticism from fellow MPs on Sunday, who angrily demanded his expulsion from the chamber.
MP Kamal Ahmed threw the session into chaos after approaching Okasha from behind nd hitting him repeatedly with his shoe.
The speaker of parliament Ali Abdelaal scolded Ahmed for his attack and suspended the session for half an hour.
"This is inappropriate, Mr. representative," Abdelaal said.
Okasha was escorted out of the chamber by fellow MPs, refusing to give statements to reporters.
"That was not acceptable, by any means," said al-Sayyed al-Sharif, one MP who sprang to Okasha's defense and escorted him from the chamber.
Sameh Seif al-Yazal, who heads Support Egypt, the parliament's largest bloc, said the incident was "regrettable" and "paints a bad image of the parliament." He accused Ahmed of disrespect ing the assembly's decision to subject Okasha to questioning over the Israeli ambassador's meeting.
"Okasha should have not attended today's session, especially since he was aware of the indignance among MPs regarding his meeting with the Israeli ambassador," said Yazal.
MP Alaa Abdel Moneim said that Ahmed should face questioning from parliament regarding his attack on Okasha, labelling the assault as "irresponsible" and "at odds with parliamentary ethics."
MP Mortada Mansour has also called for a vote to revoke Ahmed's membership of parliament. "No representative can be hit with a shoe. Ahmed has hit the whole assembly and his membership should be rescinded today," Mansour said.
Edited translation from Al-Masry Al-Youm