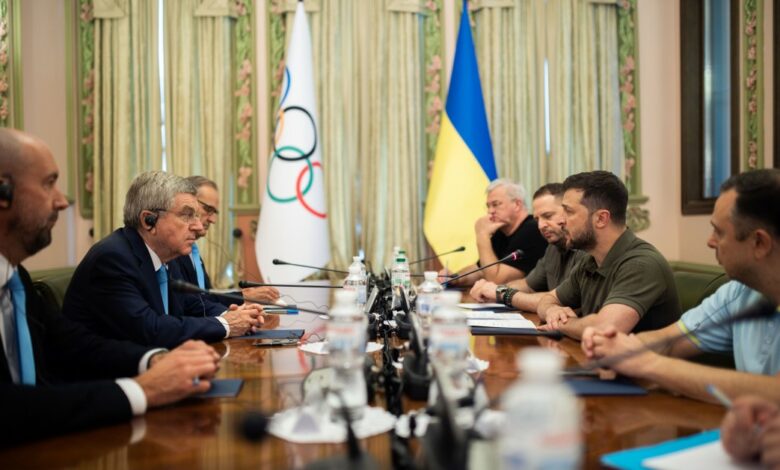 Thomas Bach, the president of the International Olympic Committee (IOC), visited Kyiv on Sunday, where he met with Ukrainian athletes before holding talks with Ukrainian President Volodymyr Zelensky.
The visit was announced in a press release emailed to CNN on Monday.
Bach was invited by the National Olympic Committee (NOC) of Ukraine, and was accompanied by the federation's head Sergey Bubka and Ukrainian sports minister Vadym Guttsait.
Bach met with around 100 Ukrainian athletes in the country's Olympic Training Centre, and emphasized the IOC's support for Ukraine in a speech afterwards.
"We want to show the solidarity of the Olympic Movement with our friends here in the Ukrainian Olympic Community because we know that you are living very difficult moments, and we want not only to tell you, we want to show you, we want to reassure you that you are never alone with the Olympic Community," Bach said.
"We are with you with our hearts, with our thoughts every day, and we want to support you to make your Olympic dreams come true."
Following that speech, Bach met with Zelensky and thanked him for inviting him to the country and restated the IOC's support for Ukrainian athletes, saying, "I want to thank you for holding such a meeting addressing sport at such a difficult time for your country. This is further confirmation of your commitment to sport and the Olympic values."
"We want to show solidarity in particular with the Ukrainian Olympic Community, and to demonstrate to the athletes and coaches that they are not alone and that we stand by their side."
Zelensky in turn thanked Bach and the IOC for their "support for our athletes and the Ukrainian Olympic Community."