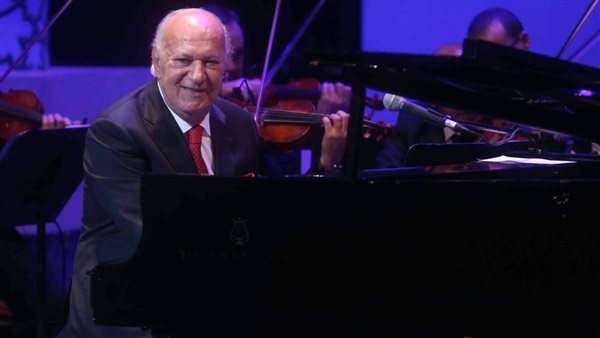 Egyptian composer Omar Khairat has arrived in Saudi Arabia's al-Aula governorate to perform a concert on Friday at 5 pm at Maraya Theater as part of the activities of the Winter Attantora Festival, Al-Youm al-Sabea said.
Khairat will conduct several musical compositions that he previously composed for TV drams, movies and operettas, such as Miss Hickmat's Conscience (Dameer Abla Hickmat), The Foreign Abdel Qader, Agent 1001, Meeting with Destiny, Judgement in Islam (El Kadaa fel Islam), and Nagui Atallah's Team.
Khairat will also perform a concert in Egypt on January 28-29 at the Bibliotheca Alexandria's Arts Center, accompanied by the Orchestra of Bibliotheca Alexandria.
Omar Khairat is a famous Egyptian composer and pianist and the founder and conductor of the Omar Khairat Band. He was born in Cairo and raised in a family of musicians. His uncle is Abou-Bakr Khairat, the great Egyptian composer and architect, who established the Cairo Conservatoire and enriched Arab music with great symphonic pieces.
Khairat joined the Cairo Conservatoire in 1959, studied piano with Italian Maestro Vincenzo Carro, and followed correspondence courses in music theory and composition with the Trinity College in England. Omar Khairat shaped his musical identity as a professional independent composer achieving new musical visions characterized with deepness and richness. 
Edited translation from Al-Masry Al-Youm