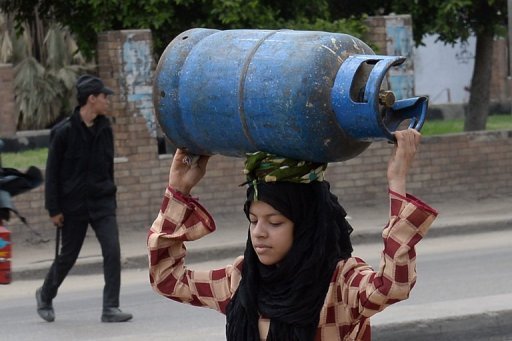 Egyptians have been suffering from butane gas shortages for years, with people usually waiting for hours on end outside warehouses for the "cylinder of their dreams."
Presidents come and go and yet the crisis remains.
A journalist with Al-Masry Al-Youm went on a dawn-til-dusk journey with a batch of gas cylinders.
Al-Masry Al-Youm witnessed the suffering of citizens, usually conveyed in media through the odd photo or a short video, after which officials give statements that citizens waiting in line have no use for.
Our Al-Masry Al-Youm reporter started her 11-hour journey at 6 am from a warehouse near Shobra al-Khaima wearing black, loose clothes like the majority of poor Egyptian women. She carried an empty cylinder in a rickshaw to the warehouse in return for LE10. Ten pounds may be a burden to some families, so the citizen is forced to carry the cylinder on foot. The most important thing is to hurry up in order to get a good place near the front. The citizen reaches his destination and finds out that the line has reached the end of the street. Some queue from 2 am sitting on the ground or on their empty cylinder. There are people of all ages and appearances in the queue, but all share one common experience – poverty.
Abdel Aziz Gharib, an 80-year-old retired employee, arrived outside the warehouse at 2 am. His neighbors helped him to leave his apartment on the third floor and go down the stairs and put the empty gas cylinder in a rickshaw to go to the warehouse. Hours had passed as Gharib waited for first sunlight. He took out his handckerchief and wiped his thick-lensed glasses to read a newspaper he brought to deal with the boredom.
Gharib sat on his empty cylinder and started to recount his suffering to Al-Masry Al-Youm.
"Every month I come and wait for hours outside the warehouse to get a cylinder. I have never had a cylinder upon my arrival. To avoid quarrels with bored people, the warehouse owner keeps it closed until the vehicle carrying cylinders arrives," he said.
Gharib and hundreds of other citizens have no choice but wait until he gets the susbsidised cylinder, otherwise he will have to buy it at LE50 on the black market.
"How am I going to live on LE500 of my pension, if I buy a cylinder at LE50?" he added.
Ummo Mohamed sat beside Gharib waiting in line while embracing her ​​infant son in an attempt to protect him from the cold weather. She said she arrived at the warehouse at 5 am and found a long line before it.
"I am from Meit Nama, in order to come here, I take an auto rickshaw at LE10," said Ummo Mohamed. She added she cannot afford a gas cylinder sold near her house, priced at LE40 on the black market.
Ahmed al-Saadany, a man in his 50s who owns a poultry farm at Sandyoun Village in Qalyubiya, leaves his home at dawn. He puts a number of empty gas cylinders on a pick-up truck and starts his journey in search for subsidised cylinders in nearby villages.
Saadany said that the gas cylinders' crisis was not new as it starts in November every year. Saadany added many poultry farms were closed due to the bankrupcy of its owners.
"We are living on a planet and the Cabinet is living on another," Ahmed Abdel Raouf, another poultry farm owner, complained.
"The cylinder has reached LE50 on black market, while each room [at a poultry farm] needs five cylinders a day," Raouf said.
Raouf added he resorted to loans from banks worth LE250,000, and he did not know whether he would be able to pay them back.