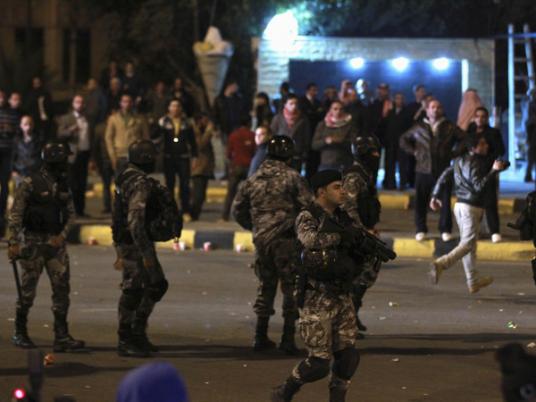 Riots that broke out in Jordan after the government raised fuel prices left one protester dead on Thursday, the first fatality of violence that has spread to several impoverished towns in the kingdom, witnesses and security sources said.
Hundreds took to the streets on Wednesday after the government decided to raise gasoline, cooking gas and heating fuel prices. They blocked roads, set government buildings alight and vandalized shops in the towns of Maan, Tafila and Karak.
The protester was killed and scores were injured during an attack on a police station in the country's second-largest city of Irbid, the witnesses said.
Meanwhile, a police statement carried by state-run Petra news agency said, "Twelve policemen were injured when a group of gunmen attacked a police station in Irbid. One of the gunmen died in a shootout, while four others were wounded."
The incident came a day after rioting and clashes erupted in Amman and other cities, including Irbid, and at least one other police station attacked.
The statement said that in a separate attack in Shafa Badran, near Amman, "gunmen, using automatic weapons, shot and injured a policeman, directly hitting one of his eyes. He is in a critical condition."
The unrest erupted on Tuesday night after the price increases under which the cost of household gas will rise 53 percent and petrol by around 12 percent.
The hikes, followed by an 11 percent increase in public transport fares, drew sharp condemnation from the opposition Islamists, who warned of "civil disobedience" in the run-up to January general elections they are boycotting.
In Amman, around 500 Islamist-led demonstrators clashed with anti-riot police, hurling stones at them after the protesters were prevented from holding a sit-in near the interior ministry on Gamal Abdel Nasser Circle.
They set tires and garbage containers ablaze and tried to block the main road between there and nearby Firas Circle in Jabal Hussein neighborhood, but police prevented them and fired tear gas.
"Jabal Hussein is a popular shopping area. Now all shops are closed. It has turned into a ghost town," one resident told AFP.
The clashes took place as Islamic Action Front chief Hamzeh Mansur held talks with the interior minister.
Mansur told AFP the "demonstrations will not stop unless the government cancels that provocative decision. We have sent a letter to King Abdullah II urging him to cancel it and form a national salvation government."
Unrest broke out in southern cities as well as in Russeifeh, Zarqa and Irbid, north of Amman, according to a security official.
"Violent rioting took place today in Karak, Tafileh and Maan. Some rioters attacked a police station in Theiban, while others blocked a main desert road," he told AFP, adding that anti-riot forces broke up the protests.
Another security official said demonstrators "torched a courthouse and attacked a civil defense center and an Education Ministry building in Irbid."
"In Salt, police prevented protesters from reaching Prime Minister Abdullah Nsur's house. But they torched a market, destroyed a bank… and torched electricity company offices," he said.
Protesters have demanded the resignation of Nsur and his 35-day-old government.
Officials said around half of Jordan's 120,000 public school teachers went on strike after a call by their union, affecting at least 2,000 schools countrywide.
Assistant police chief Hamdan Sarhan told state television that six people, including two Syrians, were arrested for "attempting to create riots in Tafileh," a southern city.
"A Jordanian political party had given the two Syrian men 30 dinars [US$42] each to riot in Tafileh. We are still interrogating them," he said. Elsewhere across the country a further 29 people were detained.
Nsur said on Tuesday that the price hikes were required to help reduce a government deficit of 3.5 billion dinars (around US$5 billion dollars) this year.
As "compensation," the government has said it will pay 420 dinars a year (US$592) to families who earn less than 10,000 dinars (US$14,000) a year.
However Zaki Bani Rsheid, deputy leader of Muslim Brotherhood, told AFP that the decision was a severe blow to the election. It has politically weakened the regime and not just the government."
The Islamists have said they will boycott the upcoming elections in protest at constituency boundaries that they say are unfair, and at the failure to move towards a constitutional monarchy with an elected prime minister, rather than one named by the king.