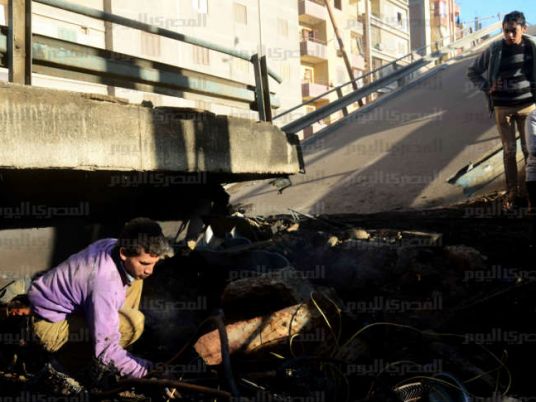 Brigadier General Khaled al-Hayatmy of al-Marg Police Station said Tuesday a bridge at Ezbet al-Nakhl area has collapsed, killing a police corporal and injuring two other people including a garage worker.
Hayatmy added he had not received notices with other victims, pointing out that civil defense forces and ambulance remained at the scene of the incident as heavy equipment lifted the rubble.
Cairo Security Directorate authorities have stopped the movement of the subway at Marg, Ezbet al-Nakhl and Ain Shams stations as parts of the collapsed bridge fell on the rails.
The traffic police diverted cars to alternative streets away from the bridge collapse.
Eyewitnesses reported that there was number of victims still buried under the rubble.
Parts of the bridge Sheikh Mansour Bridge collapsed early Tuesday morning after a fire broke out in shanty homes down below the bridge, leading to the fall of the bridge's iron pillars, according to the police investigations.
Edited translation from Al-Masry Al-Youm