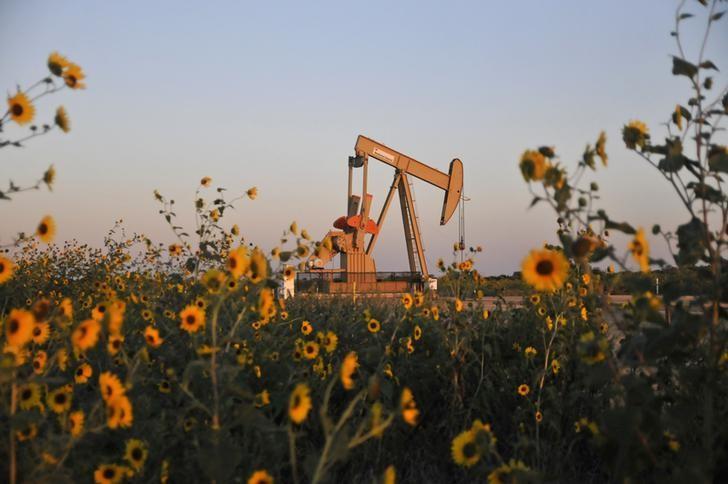 OPEC countries and other producers including oil giant Russia are backing prolonging last year's production cut to shore up crude prices, strongly indicating that an extension is a done deal even before they meet formally on the issue Thursday.
The output reductions have been in effect since November, when the 13-country Organization of the Petroleum Exporting Countries agreed to cut production by 1.2 million barrels a day, while non-OPEC countries chipped in with a further 600,000-barrel reduction. That deal, which has helped push up oil prices, is due to expire at the end of June.
Saudi Energy Minister Khalid al-Falih noted a "trend" among participants to prolong the cuts for nine months. OPEC Secretary General Mohammad Barkindo said there is "growing consensus" for an extension.
Iranian oil minister Bijan Namdar Zanganeh told reporters there was already apparent unanimous consent "to continue the cut that we had in November."
Jabbar Ali Hussein Al-Luiebi, his Iraqi counterpart, said: "We support the proposal for nine months."
A committee of all nations participating in the cuts also recommended a nine-month extension on Wednesday. Non-OPEC countries that are part of the deal will attend the meeting, including Russia's Energy Minister Alexander Novak.
But in the longer term, there are concerns among OPEC countries that higher oil prices may end up being counterproductive as they encourage US shale gas producers to re-enter the market — a development that could weigh on oil prices.
Despite last year's production cuts, oil prices have risen by less than OPEC hoped for. At around $50 a barrel, benchmark crude is up from the sub-$30 levels reached in early 2016. Still, prices are around half the levels reached in 2014.
Financial information firm IHS Markit sees OPEC revenues showing a modest gain this year after dropping from their peak of $1.2 trillion in 2012. But the total, it said, "will be less than half the level of 2012, when prices were more than double current levels."
U.S. output since last year's cut has increased by nearly a million barrels a day to 9 million barrels. That already puts American production up there with Saudi Arabia and Russia and cuts further into OPEC's past ability to play a role in setting prices and supplies.
Commerzbank cited data from the US Department of Energy saying US production was roughly 540,000 barrels per day higher in mid-May than at the start of the year.
"This offsets nearly half of OPEC's production cuts," it noted.
More than 400 oil rigs are now working US shale fields, an increase of more than 120 percent compared to a year ago. And US producers are poised to expand more.
"With the US continuing to win market share by producing more oil at lower price levels, the global supply excess will take a long time to eradicate," said Fawad Razaqzada of Forex.com.
Additional psychological pressure on OPEC is coming from President Donald Trump. As part of his proposed budget, he called Tuesday for the sale of half of the country's strategic oil reserves, which stand at 688 million barrels.
It is unclear if Congress will approve the initiative. Even if it does, the drawdown would extend over 10 years. Still, for OPEC the timing of the proposal was unfavorable, coming just two days before the ministers meet.