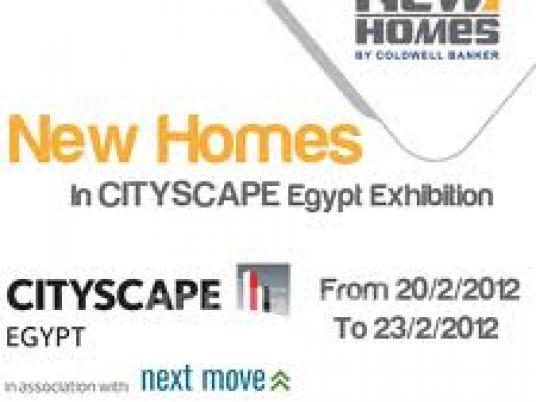 Real estate developers participating in Cityscape Egypt 2012 used longer payment plans, smaller affordable houses and additional promotional material to entice investors this year. With investment agencies highly optimistic about the future of real estate, by the time the gates opened their registration desks were all occupied by lines of visitors.
A countdown to the opening of "Egypt's only international real estate investment and development event," as described on its website, had visitors lined up at the exhibition gate at 10 am on 20 February. However, the gates did not open until noon.
"It was disappointing not to be let in on time simply because the minister of housing is in the area; it is not the sort of thing you would expect to happen after the revolution," said Eman Taha, who was visiting the exhibition to find possible clients for a construction material company that she and her partner Heba Abdullah opened in August 2011.
But according to Abdullah, "Apart from that, the exhibition is extremely well-organized in comparison to previous ones."
With over 40 exhibitors, a festive mood reigned in the convention's three halls in Cairo International Conference Center. Potential investors, homeowners, designers and business owners paid a LE50 for entry, with a complimentary catalogue.
Each booth had different attractions, such as name-brand coffee, children's corners for family buyers and other small goodie bags.
The exhibitions spared no expense to attract all different kinds of possible investors. A gleaming black Mercedes parked in front of Hyde Park Properties for Development acted as a sales tool to attract potential investors to purchase a property within the three days of the exhibition, which is set to end on 23 February. The developer of the Swani Resort in the North Coast displayed a yacht for buyers interested in one of their beachfront villas.
Loud music played as famous mascot Papa Porto was carried around in a boat by clowns and other circus characters, directing onlookers to the Amer Group's colorful display of balloons and a merry-go-round.
Medhat Moftah from Amer Group said their current mall and vacation resort projects have been affected by the political situation. "However, the last few months have picked up," he added.
Optimism was not restricted to local investors, as it could also be heard in the voices of the real estate developers. According to Nader Mostafa from Kuwait Wadi El Nile Urban Development Company, the last four months saw a sudden recovery as buyers showed more interest in buying new property and more villas and apartments in 6thof October compounds were put on the market. The company, based in Kuwait, began its first project in Egypt in 2010 and intends to start handing over property by 2014.
Abdullah said from what she has seen in her line of work, "development and construction have not been affected at all by the current political situation." She said this is why property builders are all sticking to their deadlines.
Jylan Sekaly, a property consultant at Sixth of October Development and Investment Company (SODIC) said the company has adapted to changes in Egypt by introducing a six-year payment plan, as opposed to their old four-year plan, thus allowing those who have been financially affected by the current economic situation more time to complete their payments.
New developments are starting up around the country — from the Mediterranean to the Red Sea — and Cityscape's large-scale exhibit has gathered them all in one area for investors to choose from.