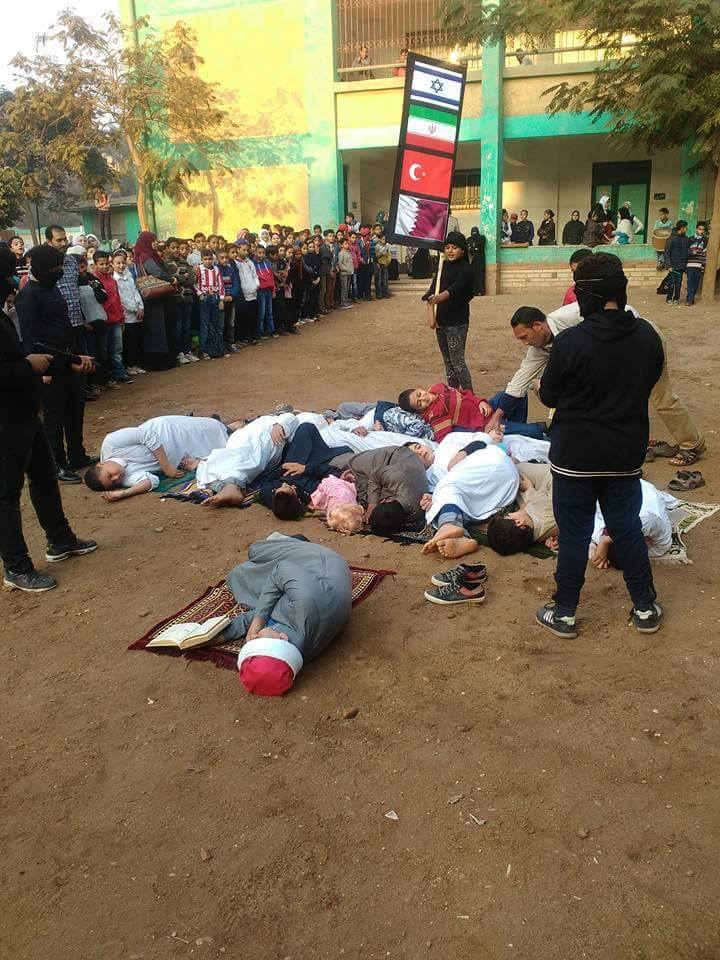 Massive controversy hit Egypt's social media on Tuesday after photos appeared of a group of young students performing a play at their school in Egypt's Dakahlia province imitating Friday's al-Rawda mosque attack in North Sinai that left 309 people dead.
Social media users expressed outrage at the play which showed one group of students lying on the ground playing dead worshipers, while another group played the militant attackers.
Most of the protestations centred around the school administration who allegedly made the students perform the play.
In response to the outrage, the Education's Ministry's official spokesperson Ahmed Khairi asserted that Education Minister Tarek Shawkai decided to initiate an investigatino into the matter, according to the state-run newspaper of Akhabr Al-Youm.
The Education Ministry has also decided to remove the school's director from her position as the regulations of the Ministry clearly stipulates that students should not be involved in issues related to politics.
Akhbar al-Youm quoted the Ministry spokesperson as saying that the school administration responsible for setting up the play did not receive prior permission from the Ministry.
Friday's attack, the deadliest in Egypt's recent history, saw 27 children being killed.
After prosecutors investigated the scene of the massacre on Saturday, the country's top prosecutor, Nabil Sadek, stated that there were between 25 to 30 militants involved in the onslaught, and revealed that they carried the flag of the Islamic State group.
The militants detonated a bomb and opened fire on fleeing worshipers from the mosque's 12 windows. They used five four-wheel drive vehicles and set fire to seven additional ones belonging to local residents.
Survivors of the attack testified to the prosecutor, saying that perpetrators "sported military-like attire, some of them were masked while others were not, and they carried a black flag which read: "There is no god but God. Muhammad is the messenger of God.