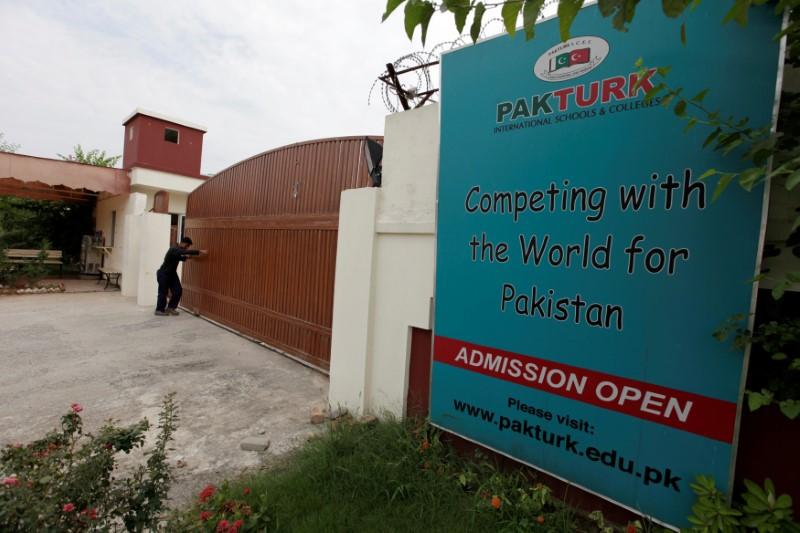 Pakistan has deported a former director of a chain of private Turkish schools along with his family, former school officials said on Monday, the day set for a court hearing on the deportation.
Turkey has accused the PakTurk Schools, set up in 1995, of having links to Turkish cleric Fethullah Gulen, or his "Hizmet" movement, which President Tayyip Erdogan says was behind a failed coup attempt last year.
The chain of international schools and colleges denies such links but Pakistan, where Erdogan has made several state visits as the two countries forged close ties in recent years, ordered its Turkish teachers to leave the country last November.
The schools remain open, run by Pakistani staff.
Mesut Kacmaz, his wife and two daughters were flown out of Pakistan after having being detained since September 20 in the eastern city of Lahore, the former school officials said.
"The daughters called us and said they had been deported today, and the father and mother were in Ankara for interrogation and they believe they will be jailed afterwards," said one former school official, who asked not to be identified for fear of reprisals by Pakistani authorities.
"They were blindfolded and boarded an unmarked flight for Istanbul in the morning," said former PakTurk employee Hasan Huseyin, citing the telephone call by the daughters from Turkey.
A Pakistani court had ordered the government not to deport the Kacmaz family until it had ruled on the case, whose next hearing had been scheduled for Monday.
Pakistan's Interior Ministry did not respond to requests for comment from Reuters. The Turkish embassy could not immediately be reached for comment.
The deportation was confirmed by a Pakistani government official who asked not to identified.
"The Turkish family was taken into custody by a team of security officials," the official added. "On Saturday, they were deported to Turkey from Islamabad on a special plane sent by the Turkish government."
More than 400 people were ordered to leave Pakistan but were given protection by the United Nations. About 40 people fled at the time fearing prosecution, while the rest, including Kacmaz's family, received asylum certificates until Nov. 24 this year.
"On October 13, the certificates were renewed by the U.N. for an additional year, but the next day Mesut's family was deported," the official said.
The Turkish embassy in Pakistan has refused to renew the passports of former PakTurk employees living in the country, or issue documents for newborn children, he added.
PakTurk educates more than 10,000 students in Pakistan but has employed no Turkish nationals since the South Asian nation asked them to leave.