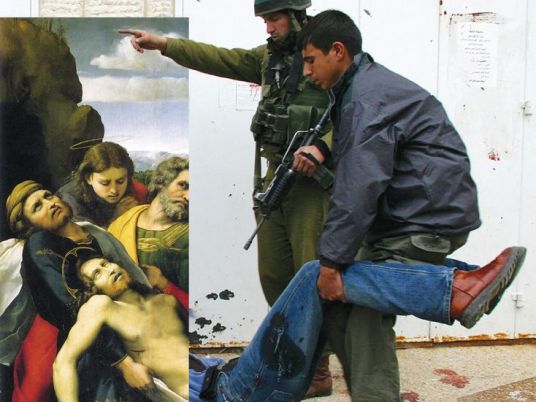 In honor of Pope Francis's visit to Palestine in May 2014, the Palestinian Museum launched a project entitled, "In the presence of the Holy See". The exhibit was comprised of an innovative and creative collection of digital collages which shed light on the decades-long suffering of Palestinian people.
Collage is a technique that employs photographs from different sources, juxtaposed together to create a new image that holds within it a different and profound message.
Director and head curator of the Palestinian museum Jack Persekian, along with the museum's team, brought the idea to life aiming to voice a 'silent scream' about the aspirations of Palestinians to break free from the shackles of Israel's suppression.
They combined modern photographs of the massive destruction of Palestinian villages and emotionally-shattered Palestinian people with Western baroque paintings of biblical scenes. This melding of two different styles and eras aimed to highlight the reality of the Palestinians' deteriorating life circumstances from a perspective that is different to what the media usually portrays.
"I'm trying to tell the Palestinian story in a human way, in a way that people can understand. I tried to move from the typical image that is shown by media as a conflict between two nations, and for the world it is like any other case of any tragedy in the world and the two nations should resolve it as a general humanitarian issue," Persekian told Reuters.
"The idea started from the Christian history where the pope comes from and which is full of stories that in history took place in Palestine. These stories and all of the Christian teachings have deep meanings like tolerance, love, justice and mercy so we tackled these meanings to deliver a human message about the Palestinian life for the pope, and via him to the world about (Palestinian) life, suffering, occupation and the unsolved case," Persekian added.
Some of the collages revolve around the theme of how Jesus and his followers were subjected to the same persecution and torture faced by Palestinians under the occupation of Israel today.
Though it adorned Manger Square in Bethlehem nearly a year ago, the 24-collage collection was met with great enthusiasm. Shortly after the exhibit, postcards of the images were made and continued interest is seen by the many social media sites that have shared the images. Plans are currently under way to display the art pieces abroad.
View the whole collection on the official website of the Palestinian Museum: http://www.palmuseum.org/exhibitions-news/news/in-the-presence-of-the-holy-see-project