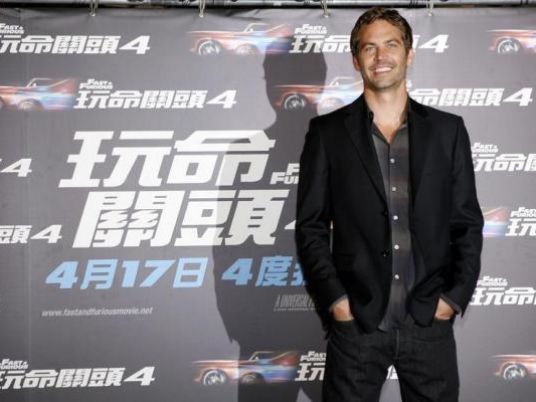 The 17-year-old daughter of late actor Paul Walker has reached a US$10.1 million settlement with the estate of the man driving the car that crashed and killed them both in 2013, her attorney said on Friday.
Walker was a passenger in a 2005 Porsche Carrera GT driven by Roger Rodas when the car, traveling at speeds of 129 to 150 km per hour, careened into trees and a utility pole in Santa Clarita, northwest of Los Angeles.
Meadow Walker's attorney, Jeff Milam, said in a statement that the settlement would go into a trust for the teen.
The settlement, reached in November 2014, went unnoticed for nearly a year and half because it was filed under "Meadow W.", according to celebrity news website TMZ, which first reported the story.
According to Milam's statement, Rodas was only partially responsible for the crash, and the settlement covers a "fraction of what her father would have earned as an international movie star had his life not been tragically cut short."
Attorneys for Rodas' estate could not immediately be reached for comment.
Walker's death at age 40 led to a lull in production of "Furious 7," the latest movie in the mega-hit action series about illegal street racing that propelled his career.
The 2015 film grossed more than $1.5 billion worldwide, making it among the highest-earning films of all time.
Milam said the actor's daughter was continuing her lawsuit against Porsche AG and that she "intends to hold the company responsible for producing a vehicle that was defective and caused Paul Walker's death."
Meadow Walker, the actor's only child and sole heir, filed the complaint against the German automaker last September, accusing it of skimping on safety features that could have prevented the crash or at least kept him alive.
Porsche has maintained that the actor was responsible for his own death. After a four-month investigation, Los Angeles officials said the crash was caused by excessive speed, not mechanical failure.
Milam said Paul Walker survived the impact of the crash, but "burned to death because of Porsche's defective design."
A federal judge presiding over a similar lawsuit filed by Rodas' estate against Porsche in Los Angeles ruled in favor of the car company on Monday, saying: "Plaintiff has provided no competent evidence that Rodas' death occurred as a result of any wrongdoing on the part of Defendant."