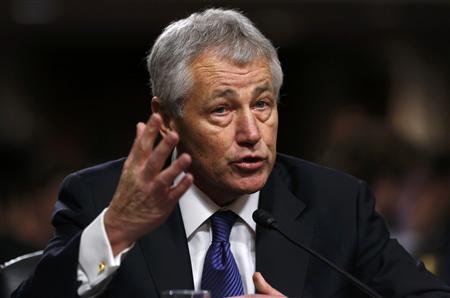 US Defense Secretary Chuck Hagel travels to Egypt Wednesday as part of a Middle East tour designed to bolster America's alliances amid growing concern over the fallout from Syria's roiling civil war.
In his first trip to the Middle East as Pentagon chief, Hagel is promoting longstanding US military ties with traditional allies — including Israel and Saudi Arabia — as a way of countering Iran and deterring Islamist militants.
Hagel, who was in Riyadh on Tuesday evening to finalize a major arms sale to Saudi Arabia, was scheduled to fly to Cairo to meet his counterpart, General Abdel Fattah al-Sissi, and later hold discussions with President Mohamed Morsy.
For years Egypt was at the center of America's strategic influence in the region but since the 2011 ouster of then-President Hosni Mubarak, the United States has had to contend with new political realities and an independent-minded government in Cairo.
US officials, however, say security ties cultivated over decades between the two countries have survived the revolution and that America's military leaders still have a direct channel to Egypt's powerful top brass.
"We can pick up the phone, the secretary of defense, and have his counterpart who we can talk to at any time," a senior defense official told reporters last week before Hagel's trip.
"Despite changes in the Egyptian military and political system, that's been constant."
In the post-Mubarak era, the United States still provides more than a billion dollars in annual military aid to Egypt. The huge funding package has always been seen as a way of ensuring Cairo abides by the 1979 peace accords with Israel.
Hagel and his counterparts are expected to discuss relations with Israel, deteriorating security in the Sinai Peninsula and Egypt's domestic politics, officials said.
Tensions rose after two rockets were fired from the Sinai at the Israeli Red Sea resort of Eilat last week, with a Salafi jihadi group claiming responsibility for the attack.
Israel has complained to Egypt over the incident and threatened to take military action if the attacks continue.

Hagel's visit coincides with political crises and power struggles in Egypt, including a hemorrhaging economy and threats by the opposition to boycott parliamentary elections.
"He'll have an opportunity to talk directly with Egyptian officials about the difficult times they're in," said the defense official.
Hagel's trip will mark the first meeting between US and Egyptian defense chiefs since former defense secretary Leon Panetta paid a visit last August.
The new Pentagon chief, who took office two months ago, came to the Middle East touting an elaborate arms deal with Israel, Saudi Arabia and the United Arab Emirates, designed to bolster America's partners as a counterweight to Iran.
But Syria's raging civil war has topped the agenda through much of Hagel's trip, amid renewed fears Syrian President Bashar al-Assad's regime has turned to deadly chemical weapons in its fight with rebel forces.
An Israeli general in military intelligence said Tuesday that the Damascus regime had employed chemical agents, most likely sarin, more than once in battles in recent months.
The United States has said any use or transfer of chemical weapons would cross a "red line" and possibly trigger military action. But Hagel's spokesman said the US government was still not convinced chemical agents had been employed and that the claims were being reviewed.
Hagel began his tour with a three-day visit to Israel and he stopped in Jordan before flying to Riyadh on Tuesday.
After discussions in Egypt, Hagel will head to the United Arab Emirates, which has signed up to buy nearly $5 billion worth of American-made F-16 fighter jets as well as sophisticated missiles that can hit targets at a long-range.