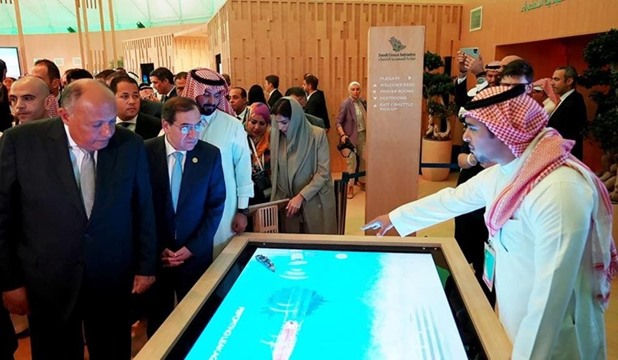 Minister of Petroleum and Mineral Resources Tareq Mulla and Foreign Minister Sameh Shoukry – the President of the 27th United Nations Climate Change Conference (COP27) – inspected the Saudi Green Initiative pavilion at the COP27.
Saudi Energy Minister Prince Abdulaziz bin Salman accompanied them during their tour, according to a statement by the Petroleum Ministry.
The pavilion is witnessing the activities of the second edition of the initiative's forum which was launched this year in Egypt in coincidence with the COP27 under the slogan of "From Ambition to Work."
This reflects keenness of both Saudi Arabia and Egypt to promote joint action to confront environmental and climate challenges.
The ministers were interested in inspecting the pavilion and followed up the latest developments of the initiative's activities.
The initiative was launched in Riyadh last year.
The Saudi Green Initiative works on increasing Saudi Arabia's reliance on clean energy, offsetting emissions, and protecting the environment.