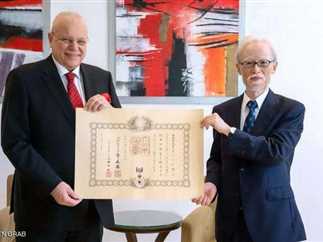 Egyptian businessman and engineer Abdel Fattah Ragab received the Japanese Order of the Rising Sun for his role as Honorary Consul General in Alexandria for several years. 
The Japanese ambassador in Cairo, Noki Masaki, awarded Ragab with the medal, thanking his efforts in supporting the Japanese businesses and people coming to the country.
Cooperation between Ragab and Tokyo on the governmental level began when Japan announced in 2002 that it needed an honorary consul in Alexandria to represent it in Egypt. After two years of research, scrutiny and consultations, he was selected for the position, due to being a businessman with experience in managing a number of companies.
Ragab worked as the Honorary Consul General in Alexandria for nearly six and a half years starting in 2004, playing a huge role in supporting Japanese companies in Egypt. 
He also contributed to numerous education and economic projects that helped the Asian country.
After Noki expressed his appreciation to Ragab and thanked him for his achievements, he talked about the various educational and economic projects currently underway in Alexandria through Japanese companies and the Government of Japan.
He added that Ragab contributed to the multi-faceted and multi-level development of the current Japanese-Egyptian relations.
Edited translation from Al-Masry Al-Youm