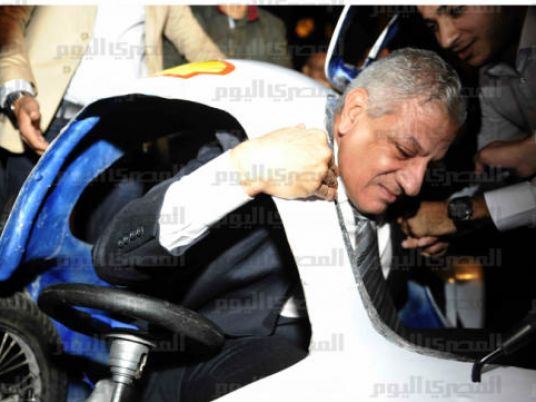 Prime Minister Ibrahim Mehleb needed a hand trying to get in and out a small vehicle invented by engineering students during a visit he made to Cairo University on Sunday.
"The students had designed a fuel-saving car and are asking your excellency to try it," university president Gaber Nassar told Mehleb.
But the 65-year-old premier could hardly seat himself and it was more difficult to get out the small racer-like vehicle without assistance from people around.
"Did you tailor it to only fit your size?" the prime minister humorously addressed the young designer.
Islam al-Tabbakh, coordinator for students' projects at the Faculty of Engineering, said students have been tackling advancing technologies badly needed for the country's industry. He cited financial straints and material shortages as impediments to students' practical creativity.
"The team succeeded in making the car move for 122 km with only one liter of gasoline," Tabbakh said, noting that their invention ranked eighth among 44 contestants in Shell Eco-Marathon (SEM) Asia Challenge 2014 last February.
Edited translation from Al-Masry Al-Youm