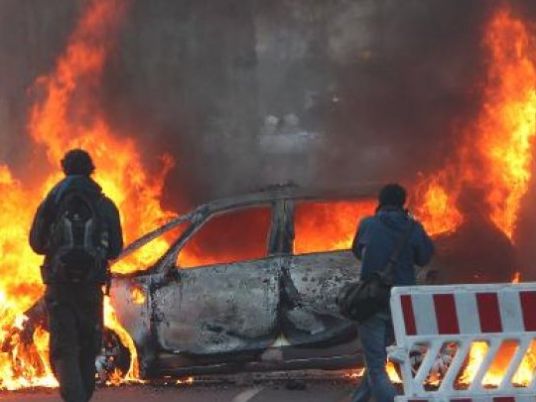 A police car was set on fire, windows were smashed and demonstrators threw stones at police in Frankfurt early Wednesday ahead of a massive anti-austerity rally marking the opening of the European Central Bank's new headquarters.
At least one officer was injured when protesters threw stones at police not far from the city's venerable Alte Oper concert hall, a police spokeswoman told DPA news agency.
A police car was set alight in the east of the city just outside the security zone erected around the 185-meter (605-foot), 1.3-billion-euro (US$1.4-billion) new skyscraper which is to be officially inaugurated later in the day.
An AFP journalist at the scene said the windows had been smashed at the citizens' center and burning tires were in the road nearby.
Convoys of police vans sped through the streets of the financial capital with sirens blaring since the early hours and helicopters could be heard hovering overhead.
The ECB officially inaugurates its twin-tower headquarters at 11:00 am (1000 GMT) in the presence of central bank president Mario Draghi and around 100 guests.
But around 10,000 anti-capitalist protesters, marching under the Blockupy banner, are rallying in protest, with a special train of 800 activists arriving from Berlin and 60 buses from 39 different cities across Europe.
While police expect most of the protesters to remain peaceful, water cannon and helicopters are standing by in case the situation turns violent.
"It is one of the biggest deployments ever in the city," a police spokeswoman told AFP, adding that there was a "high possibility" that violence could erupt.