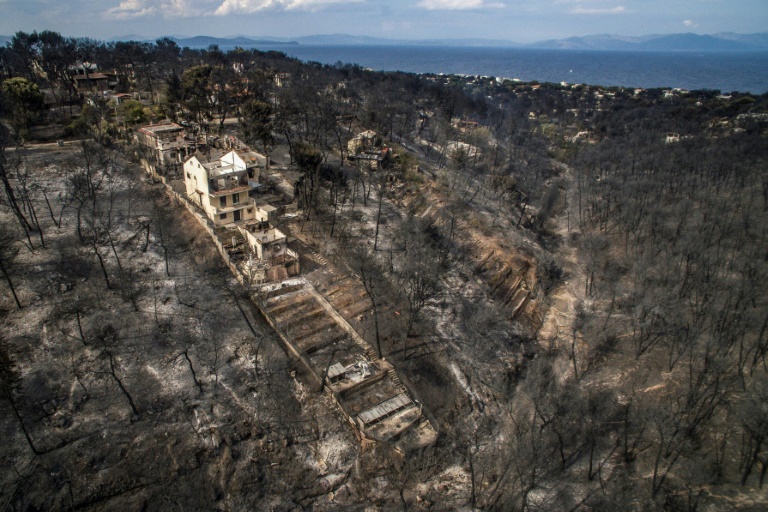 The Greek government, widely criticized for its handling of the devastating fires east of Athens which killed 90 people, on Sunday replaced its heads of the police and fire brigade.
"The management of the firefighters will now be handled by the current deputy chief, general Vassilios Matheopoulos" and the police by "the current deputy chief of the force, general Aristidis Andrikopoulos", a brief statement from the office of Prime Minister Alexis Tsipras said.
The announcement comes two days after Greece's minister responsible for the police, Nikos Toskas, quit on Friday.
Opposition parties have accused the government of failing to provide adequate warning and evacuate the coastal resort of Mati which had been frequently hit by wildfires, in addition to subsequently trying to hide the scale of the loss of human life as the disaster unfolded.
The main opposition conservative New Democracy party earlier described Toskas's resignation as "too little, too late", arguing that Tsipras — who has accepted political responsibility for the tragedy — should also step down.
The fires burned with such ferocity that most people fled to the sea with just the clothes on their backs.
In the days that followed, the firefighters and police — both departments under Toskas's responsibility — issued conflicting announcements over what went wrong.
One police union this week said officers had not been promptly notified by the fire department of the fire's exact location in order to set up proper roadblocks in the area.
As a result, many drivers were mistakenly diverted into the fire zone and died after becoming trapped in the Mati's narrow streets.
Local administration officials were also criticized for holding an emergency response meeting hours after the fire broke out, when Mati had already been overwhelmed.
Toskas said he had offered to resign in the immediate aftermath of the fires, but had been told by Tsipras to stay until the end of the emergency.
He and other officials had insisted that with winds blowing at speeds of up to 120 kilometers (75 miles) per hour, there was little time to mount an effective evacuation.
The government has also said that decades of illegal construction in the area had blocked escape roads to the coast.
The environment ministry has now pledged to tear down illegal buildings — permitted by successive administrations to remain standing in return for fines and possible votes — in Mati and other fire-endangered areas.