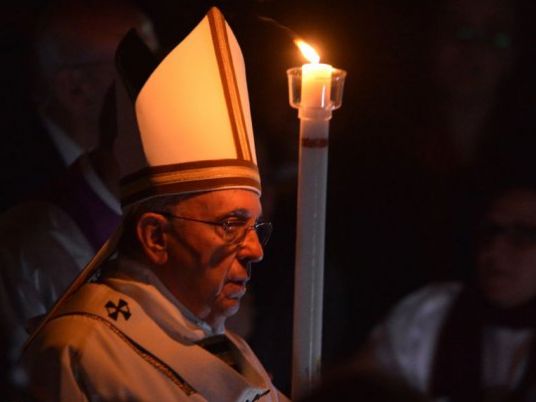 Pope Francis on Saturday proclaimed an extraordinary Holy Year starting in December that he said will bring the Roman Catholic Church and its 1.2 billion followers back to basics, focusing them on the need to show mercy toward others.
In a ceremony held at St. Peter's Basilica before the Holy Door, a massive bronze door decorated with panels depicting human sin and God's mercy, the pope presented a document known as a papal bull to cardinals.
The papal bull outlined the pope's vision for the Holy Year, one of the Church's most important events, which he declared in a surprise announcement last month.
Holy Years normally take place every 25 years unless a pope decrees an extraordinary one to bring attention to a particular issue. The next one had been scheduled for 2025.
"It is time to return to the basics and to bear the weaknesses and struggles of our brothers and sisters," Francis wrote in the document, titled "Face of Mercy" in Latin.
In his homily after the ceremony, Francis said a Holy Year was necessary "because the Church, in this time of great historical change, is called to offer more evident signs of God's presence and closeness".
During the last Holy Year — or Jubilee — in 2000, millions of pilgrims came to Rome to take part in religious festivities.
The papal bull indicated that Francis intends to focus this Jubilee on many of the themes that have embodied his papacy, including that the Church should be poor and that its mission is to serve the poor.
Francis, the first non-European pope in nearly 1,300 years, has signaled a sharp change of style from his predecessors, renouncing the spacious papal apartments and living in a small flat in a Vatican guest house.
The Holy Year will begin on Dec. 8 of this year and will conclude in November of 2016.
During a Jubilee, the Holy Door entering St. Peter's Basilica, which normally bricked up, is opened so pilgrims can pass through it.
During the Jubilee it will become a "Door of Mercy through which anyone who enters will experience the love of God who consoles, pardons, and instills hope", the pope wrote.
The Holy Doors of Rome's other basilicas also will be opened, as will similar doors in churches and sanctuaries around the world as a "sign of communion for the whole Church".