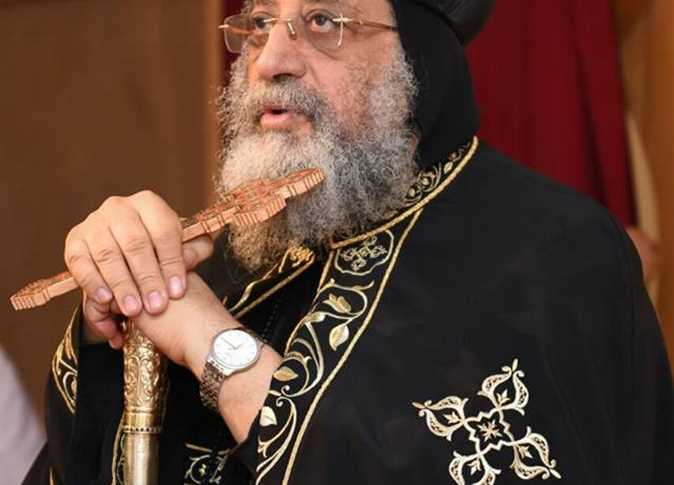 Pope Tawadros II of the Coptic Orthodox Church in Alexandria headed the Palm Sunday mass at Saint Pishoy Monastery of Wadi al-Natroun without attendance as a result of the coronavirus outbreak.
In a short speech during mass, Tawadros said that the gospel recounting the story of Zacchaeus shall console those Copts staying in their home who failed to attend the mass.
The closure of the churches is for a temporary time due to the coronavirus outbreak worldwide, Pope Tawadros II said.
Very few priests, monks and deacons participated in the mass which was followed by prayers.
Spokesperson for the Coptic Orthodox Church's official page said the Christian TV channels will broadcast the prayers on air.
Pope Tawadros II called on Copts to remotely participate in these prayers through the screens to instill the unity of heart and soul.
The pope will perform the coming mass prayers including Easter Resurrection at the Saint Pishoy Monastery without attendance.
The Coptic Orthodox Church in Egypt last month closed all churches and stopped all ritual services, masses and gatherings as part of precautionary measures to prevent the spread of the novel coronavirus.
The church's decision came after a meeting by the Standing Committee of the Holy Synod, headed by Pope Tawadros II, Pope of Alexandria and Patriarch of the See of St. Mark, to discuss the latest developments of the coronavirus.
A committee statement said that the decision came "given that gatherings represent the greatest danger leading to the rapid spread of the virus, out of the national and ecclesiastical responsibility of the Coptic Orthodox Church, and to preserve all the people of Egypt."