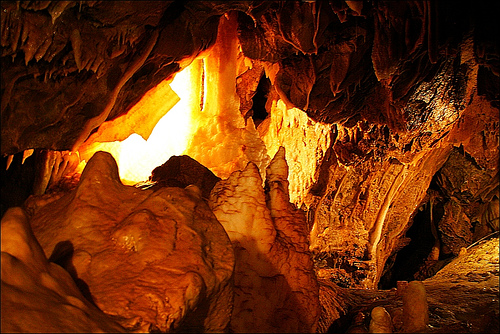 Put on your long-sleeved jacket, take a deep breath, and get ready for one of the most relaxing tours ever in a 9-degree Centigrade cave in Germany.
Once you enter Atta cave you find yourself in a different world, wonderfully created out of dripstone formations that each of us sees differently: castles, human faces, birds and even statues of Santa Claus.
While walking and looking around, you find artfully grown stalagmites and stalactites that are surrounded by rock curtains draped from the ceiling.
And then it's time to relax and recover in the health grotto, 50 meters below the surface of the earth, enjoying the ozone-free air, the 95 percent humidity and a constant temperature.
The atmosphere of the grotto deepens the breath and has an invigorating effect that relives the whole body of stress and is said to help heal sleep disorders, hay fever, bronchial asthma, over-sensitivity to dust, chronic bronchitis and neurodermatitis.
The creation of the 6,000-meter cave began about 400 million years ago. Its water-soluble rocks were attacked by impure rain water that contained carbon dioxide, which acts on the limestone rock like an acid and wears it away.
Then a network of water channels was created, which washed out larger and larger cavities. As a result of gravity, the water shifted its path deeper and deeper into the ground, and then the upper parts of the system were left empty to create the cave.
But Atta was only discovered 105 years ago, on 19 July 1907, during the quarrying of limestone at the Bigge Valley Limestone Works. It was opened up to tourists and now receives 350,000 tourists per year.
When your cave tour ends, you still have some time to enjoy a coffee or a delicious lunch in the Himmelreich restaurant-café on the large terrace in front of the cave's entrance.
Finally, visit the shop beside the cave's entrance to choose a gift of the most varied minerals and crystals for your family or friends.