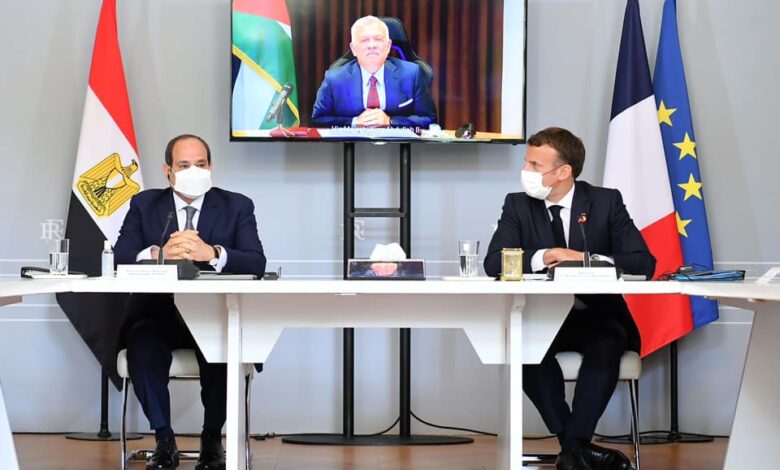 Egyptian President Abdel Fattah al-Sisi called on the entire international community to urge Israel to stop its current escalation with the Palestinian factions in the West Bank and Gaza Strip.
Sisi urged for an opportunity to restore calm and for international efforts to begin providing various support and aid to Palestinians.
His remarks came during a video-conference tripartite summit held in Paris on Tuesday between Sisi, French President Emmanuel Macron and Jordanian King Abdullah II.
The three discussed the situation in the Palestinian territories.
President Sisi stressed that there is no way to end the vicious circle of violence and escalation of the situation in the Palestinian territories without a radical, just and comprehensive solution that will lead to the establishment of a Palestinian state in accordance with international legitimacy resolutions, allowing the Palestinian people a right to exist peacefully.
President Abdel Fattah al-Sisi announced as such that Egypt will allocate US$500 million towards reconstruction of Gaza Strip following recent Israeli attacks, with specialized Egyptian companies to take part in the reconstruction process.
Egypt took the initiative to send a security delegation last week to intervene with the Palestinian factions and the Israeli side, in an attempt to find a way out of an escalation of violence that peaked in the last days of the month of Ramadan and Eid al-Fitr.
Egypt sent humanitarian aid to the Gaza Strip through the Rafah border crossing, and also opened its hospitals in North Sinai to receive Palestinians injured as a result of the Israeli bombing of the strip.