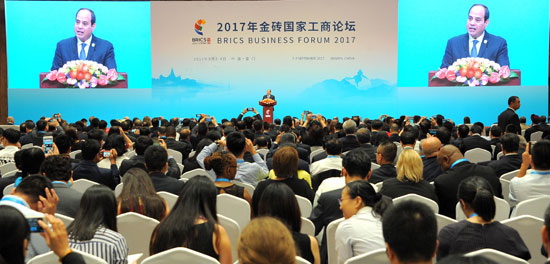 President Abd al-Fattah al-Sisi stated, on Monday, that Egypt has been dealing with its economic crisis, in spite of increased costs in the field of anti-terrorism. The country adopted a national strategic plan for 2030, following the same linear plan as the development agenda for 2030 and the Africa agenda for 2063.
During the BRICS summit in China, Sisi added that Growth Domestic Product (GDP) of the Egyptian economy jumped to 4.3 percent, with the volume of foreign reserves up to $US 36 billion.
Egypt followed the Brazilian model of dealing with inflation, through privatization of companies and expanding public spending on social protection programs. The African country also applied an advanced technological system, taking strategies from Indian models, to count numbers of beneficiaries of subsidies and link them electronically to government subsidy systems.
The unified investment law, enacted by the House of Representatives in May 2017, allows investors to register their new companies online and deal with one body to complete registration procedures. They law allows investors to benefit from numerous investment incentives for constructing strategic projects.
Sisi invited Russian president, Vladimir Putin, to attend the ceremony for the Dabaa nuclear project. Putin underlined the importance of resuming Russian flights to Egypt, praising government efforts to ensure the security of airports in Egypt.
Egypt's president is meeting with Chinese President Xi Jin Ping to discuss bilateral relations, notably economic and commercial, and will follow up on the latest developments of the agreements and Memorandum of Understanding (MoU) which the two countries' governments signed over the last period.
Edited Translation from Al-Masry Al-Youm