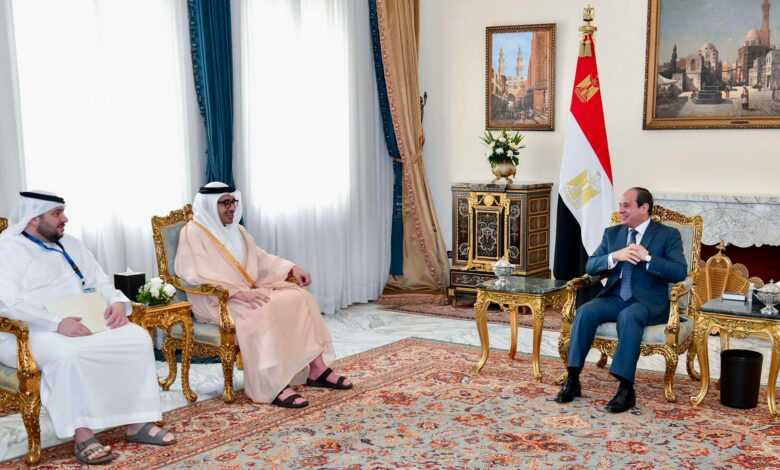 Egyptian President Abdel Fattah al-Sisi on Sunday received Sheikh Abdullah bin Zayed al-Nahyan, Minister of Foreign Affairs and International Cooperation of the UAE, in the presence of Foreign Minister Sameh Shoukry, CEO of Abu Dhabi Holding Mohamed Hassan Alsuwaidi, and UAE Ambassador to Cairo Maryam al-Kaabi.
The Egyptian presidential spokesperson Bassam Rady said that the president welcomed Sheikh Abdullah bin Zayed's visit to Egypt.
He also stressed the strength of Egyptian-Emirati relations which have spanned decades since the era of the late Sheikh Zayed al-Nahyan.
Sisi further appreciated the UAE's supportive stances for Egypt in many historical milestones.
Maintaining the Arab world's stability
Sheikh Abdullah bin Zayed expressed his honor to meet Sisi, stressing his keenness to strengthen and consolidate strategic relations between the two countries to enhance security and stability in the region – especially in light of the vital role Egypt plays in this regard.
Rady explained that the meeting dealt with ways to strengthen bilateral relations at various levels, especially regarding the economy and to increase Emirati investments in several fields in Egypt including in energy, transport, ports and tourism.
The latest regional developments and issues of common concern were also reviewed, with Sisi stressing the importance of the role played by the UAE and its leadership in resolving the challenges facing the Arab world.
The UAE Foreign Minister praised Egypt's pivotal role in the region as a mainstay for the security and stability of the Arab world, praising Egypt's keenness to strengthen solidarity among Arab countries and push forward joint Arab action.